In March, Google introduced a Marketplace for Google Apps, opening its doors to a world of apps for its Web-based Office competitor. A slew of apps and services, such as FreshBooks and TripIt, have already signed up. On Tuesday, Nordic River released TextFlow, its powerful collaboration and versioning app, for Google Apps users.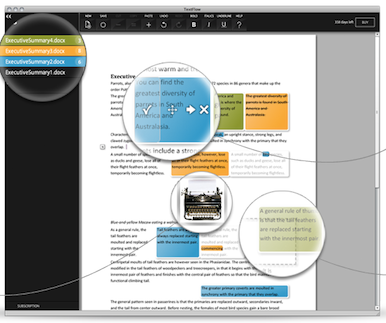 For some time now, TextFlow has brought change tracking and collaboration tools to Microsoft Word, Open Office, and even Box.net. Users can view all versions of a document, display and compare changes between each or every version, then selectively approve, deny, hide, or save changes to a scrapboard for later.
Now, the 25 million Google Apps users across 2 million businesses and organizations can harness TextFlow's collaborative features. While Google Docs is largely a collaborative document editing service, it's always been light in the change tracking department. Everyone can try TextFlow free for 14 days, and business users can purchase TextFlow for their account for $99. Academic institutions can get TextFlow for $49, but individual undergrads can get it for free.