With the wild success of Flick Fishing, it was only a matter of time until Gameloft produced its own iPhone fishing game. With Fishing Kings, Gameloft once again proves it can make waves on the iPhone market.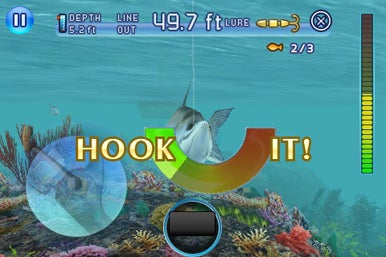 Fishing Kings uses a control scheme quite similar to Flick Fishing. To cast, you tilt your device toward you and then flick your iPhone in the opposite direction. You can tap anywhere on the water to aim where you will cast. Tapping near the edge of the screen causes the camera view to pan to the left or right.
But once your lure hits the water, you'll notice differences between the two games. In Fishing Kings, the camera goes underwater with the lure so you can see all the fish below the surface and watch the fight as it happens. As you reel in your line, you can watch the fish approach your lure and bite it. To hook them you just jerk back on the device and start reeling them in with the on screen reel by moving a finger in a circle over it. As the fish fights you, you need to tilt left or right with them to avoid getting too much tension on the line, or it will pop and you'll be left telling a story about the one that got away.
There are 5 exotic locations you can fish in, each with three different spots. These different locales cover deep sea, lake and river fishing. Fishing Kings sports some stunning graphics and all the fishing spots just look amazing. From the realistic water and to the beautiful coral to the highly detailed boat and characters—there's certainly no shortage of eye candy. The sound effects are pretty decent and there's a character voice over cheering you on and giving you tips.
As you complete fishing challenges, you unlock new equipment like lures, poles, lines and reels that make it easier to catch the big ones. Completing challenges also earns you cash to spend on better equipment and unlocks other spots to fish at.
Fishing Kings supports Gameloft Live! so you can see how you stack up against other mobile fisherman. With over 33 species of fish to catch, beautiful graphics, and an intuitive control system, Fishing Kings will keep you coming back to your favorite fishing spots time and time again.
[Tim Mercer is a frequent contributor to Macworld.]