Perhaps I go into these reviews with inflated expectations, but I've been consistently disappointed with iPhone apps bearing the ESPN name. For a media outlet that has an ubiquitous presence on the television dial and the go-to Website for sports news, you would expect mobile apps that similarly lapped the field.
That hasn't been the case. ESPN Zoom Deluxe, a spot-the-differences game the sports giant co-brands with Epic Tilt, was a lackluster offering that hasn't seen an update in more than a year—kind of disappointing for a paid app with a perfectly serviceable free version. The scores-and-news app ESPN ScoreCenter fared a little better with some nice interface touches, but the app makes it difficult to get details about the games you're interested in—ESPN's bread and butter, when you think about it. (To be fair, the news isn't all grim— ESPN Radio has gotten strong reviews, if you happen to be a fan of sports talk radio.)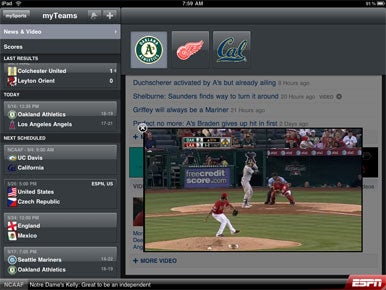 The arrival of the iPad brings a new app—ScoreCenter XL—and the promise that ESPN might finally live up to its "worldwide leader in sports" moniker in the mobile world. While ESPN has upped its game to match the iPad's bigger screen in many respects, ScoreCenter XL is marred by some wobbly or missing features.
Like many apps available for download when the iPad first arrived, ScoreCenter XL suffered from crashes—a result of developers having to build their apps without being able to test them on actual devices. Version 1.0.1 of ScoreCenter XL was released a month ago, and seems to have resolved many of those problems—I didn't have any crashing issues during my testing at any rate, so I'm able to judge the app on its own merits.
The app's XL label gives you a pretty good idea of what to expect with this iPad offering—it's a super-sized version of ScoreCenter expanded to make the most of the greater screen real estate. To that end, the iPad app retains one of the best features of the iPhone edition of ScoreCenter—the ability to customize the app to feature your favorite teams and sports. Under the app's Settings pop-up window, you can add teams you want to track via ScoreCenter. (And a lot of teams, too—there's a soccer team in the lower divisions of England's Football League that I'm inexplicably fond of, and ScoreCenter let me add them to my favorites without any fuss.) You can set push alerts for your favorite teams to notify you when a game starts, when someone's scored, or when a quarter, period, inning, or game have ended.
Adding your favorite teams allows ScoreCenter to grab relevant news, video, and scores—tapping a team icon brings up the related content, while another pane shows the most recent and upcoming scores of games involving the teams you follow. (That pane appears at the top of the screen in portrait mode; I much prefer the landscape view where the scoreboard pane runs down the left side of the screen and is much easier to read.) Alas, the scoreboard in ScoreCenter XL retains an unfortunate shortcoming of the iPhone version, at least for us West Coast sports fans—until around noon local time, the scoreboard defaults to scores from the night before, even if games are already underway for today's action. It's a bit annoying to have to scroll downward to see how my team is doing in a game that started at 1 p.m. Eastern if it's not yet noon in my part of the world.
The aforementioned video is content from ESPN's television programming—largely, 30-second highlight videos from completed games, but sometimes lengthier features from SportsCenter, Baseball Tonight, and such. The videos appear in a pop-up window that you can blow up into full-screen mode with a tap of a button. (The picture looks less sharp when blown up, though.) Thankfully, you can watch these clips free of the embedded ads that characterize so much of the multimedia content at ESPN's Website.
Like ESPN's other mobile apps, ScoreCenter XL features a scrolling ticker at the bottom of the screen offering the latest sports news. Unlike with ScoreCenter on the iPhone, however, you can't tap the ticker to call up more information on the story.
By default, the app focuses just on your teams, but if you'd like to see what life is like outside your comfortable bubble, just tap on the My Sports button. That summons a menu of the sports involving the teams you follow. Tap on MLB, say, and you'll get a list of all Major League Baseball scores and news, and not just the items relevant to your local nine. If I want to see what's happening in a sport where I haven't designated a favorite, I can tap on Top Events for a generic overview of the wide world of sports that tells me things like who won the Preakness Stakes and whether the interminable NBA playoffs are still going on.
Really, ScoreCenter XL offers what should be an idealized approach to following your favorites via your iPad. So what's the problem? Well, the content itself is pretty pedestrian at this point. Articles don't contain any hyperlinks to related content, and many of the stories are wire copy you can find elsewhere on the Worldwide Web for free. Even ESPN-specific content can be accessed on the company's Website without having to fork over the $5 cost of ScoreCenter XL. The content always doesn't feel that fresh: this past weekend, for example, ScoreCenter's top story for Oakland Athletics fans was Justin Duchscherer's return from the disabled list—even though the pitcher had been scratched from his start with an apparent injury for several hours already. And while you can get box scores and summaries from the latest games, ScoreCenter doesn't appear to give you any way to access team and individual stats for a season.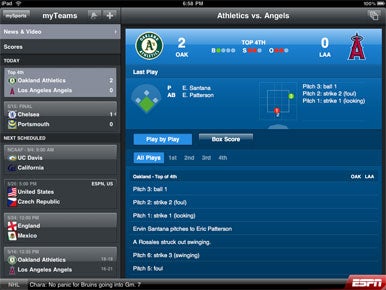 My biggest disappointment, however, deals with ScoreCenter XL's live-game tracking capabilities, which really should be the app's killer feature. After all, what better use for the iPad when your television set has been commandeered to watch Grey's Anatomy or Dora the Explorer or some other atrocity than to check on the status of the A's-Angels game? Unfortunately, the ScoreCenter game-tracking interface feels fairly cluttered—at least for baseball anyhow. For baseball games, it's hard to see at glance who's batting and who's in the field. A scrolling play-by-play feed includes every pitch—there's no way to get ScoreCenter to show you only plays involving outs, hits, errors, or runs. And scoring plays appear in the same font as a regular old ground out to second—liberal use of a bold or different-colored font might help make things more apparent.
In fairness, this might be particular to baseball play-by-play accounts. ScoreCenter's hockey screen cleverly uses team logos so you can tell who's shooting, scoring, or slashing their opponent, which makes it a little easier to follow. I'd like to see ScoreCenter adopt a similar approach with its baseball tracker or at least swipe a page out of the book of At Bat 2010, which manages to cram in a lot of game data without sacrificing clarity.
ScoreCenter XL is certainly better than many of ESPN's earlier efforts to build apps for Apple's mobile devices, which I chalk up to the more inspired use of the iPad's screen space. Still, while it's a step forward, it's only a small step—the sports giant needs to start upping its game if it wants to compete in the big leagues.
[Even Macworld.com executive editor Philip Michaels thinks he follows sports a little too closely.]