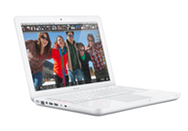 Apple very quietly updated the default configuration of its white polycarbonate MacBook on Tuesday. The new model features a better processor, improved battery life, and a new graphics chip. The updated model is available for purchase immediately.
The white polycarbonate MacBook, first introduced in October of last year, now gains a 2.4GHz Intel Core 2 Duo processor, up from the 2.26GHz chip it debuted with. In addition, it now sports an Nvidia GeForce 320M graphics chip—the same available in the latest 13-inch MacBook Pro—instead of the previous Nvidia GeForce 9400M, and Apple is boasting that the MacBook's battery life now stretches to ten hours, up from seven.
Otherwise, the specs remain unchanged: as with the previous model, the MacBook still ships with 2GB of DDR3 memory, a 250GB hard drive, and an 8x double-layer SuperDrive. The price has not changed either, holding steady at $999.