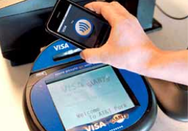 Visa expects soon to begin trials of contactless payments system for Apple's iPhone, using a special case for the phone developed by DeviceFidelity.
DeviceFidelity makes a contactless payment add-on, In2Pay, that fits in the microSD card slot found in many smartphones. In2Pay works with Visa's payWave contactless payment system. Apple's iPhone, though, doesn't have a microSD card slot, forcing DeviceFidelity to develop a new case for the iPhone containing the card slot and a link to the iPhone's dock connector in order to add the payment capability.
The microSD card syncs with the iPhone via the case. A transaction is completed by waving the phone in front of a contactless payment terminal. The case is compatible with the iPhone 3G and 3GS.
For security, use of the microSD card for payment can be locked with a passcode.
DeviceFidelity's In2Pay platform is compatible with any size of SD card and will work with major mobile operating systems such as Symbian, Windows Mobile version 6.x and Research In Motion's BlackBerry.
About 66 percent of mobile phones sold in 2008 had SD card slots, with that number expected to increase to 82 percent by this year, according to DeviceFidelity, citing a study from analyst iSuppli.
DeviceFidelity contends that building applications on its platform is more advantageous for banks than working with individual phone manufacturers, as the In2Pay platform is independent from the mobile phone itself.
Banks can support the software without working with either handset manufacturers or carriers. In2Pay is compatible with about 65 percent of mobile phone and PDA models on the market, DeviceFidelity said.
In2Pay also supports other major payment networks, including MasterCard Paypass, American Express Expresspay and Discover ZIP, according to DeviceFidelity.
The deployment of microSD contactless payment cards is similar to that of regular credit cards. A bank would sign up a customer, and the credit or debit microSD payment card would be mailed to the user. The card could then be used for payments once it is inserted into a compatible phone and activated.
iPhone 3G (8GB)
Price When Reviewed:
$299