If you, like me, resort to using Spotlight for simple calculations rather than break out a calculator, Acqualia's Soulver 2 may provide an alternative…solution to your problem. The program, updated this week, wants you to stop thinking in equals signs and calculations; instead, it lets you write an equation out the way you'd speak about it in conversation.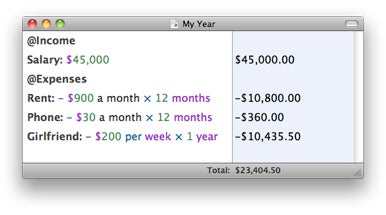 Soulver allows users to quantify what they're adding up—$2.50 x 5 becomes "$2.50 for coffee x 5 days a week," $650 x 12 becomes "Rent is $650 x 12 months"—and build multiple equations on a single sheet. Acqualia describes it as "quicker to use than a spreadsheet, and smarter and clearer than a traditional calculator."
Released five years to the day after the original release, the 2.0 upgrade adds a whole host of new features to the program, including instant conversion, new percentage operations, answer tokens, stock support, and—for the programmers in the audience—support for calculations in hex and binary. Prominent but not intimidating, the features intend to give the program an accessible feel for all users, whether they're math geniuses or basic consumers.
Soulver 2 is available on Acqualia's Website for $25, but curious users can take it out for a "smart" ten-day trial—only counting the days the program actually gets used—to see how they enjoy it. Users of the original Soulver can upgrade to the newest version of the software for $13, or, if the original license was purchased in 2010, for free. The program requires a Mac running OS 10.5.8 or later.
Coinciding with the Mac release is the App Store approval of Soulver for iPad, currently in the store for an introductory price of $6. An iPhone version, released back in February, is also available, priced at $3.