For many of us, e-mail is the most prominent facet of our Internet lives. As such, how we interact with our e-mail is important: it can mean saving us valuable time—and that time adds up. Apple announced last week that it's revamping its MobileMe Webmail interface and letting subscribers test out the new version. Now that it's been unleashed upon users, we can get a better look at what Apple's added.
Points of view
Overall, the beta version clearly signifies a major shift in design: instead of an interface based on Apple's Mail client for Mac OS X we get one that's styled after the iPhone and iPad Mail apps. For example, the new menu-bar buttons, which were previously little capsules that evoked the desktop client, now use the same simple icons as the iPad version of Mail.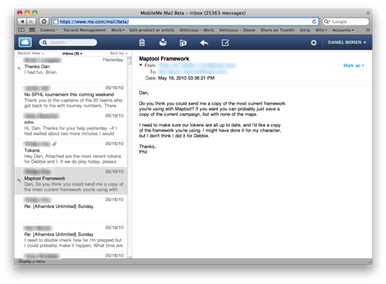 Apple has also added a pair of new interfaces to compliment the original Mac Mail-style view—now dubbed "Classic"—which featured a left-hand pane of mailboxes and folders and a horizontal split pane with the message list above and a preview panel below.
There's also now a Compact view, which looks pretty similar to the landscape view of the iPad's Mail app: a message list resides in the left-hand pane with a preview pane on the right. The Widescreen mode looks like the Compact mode with the addition of a column for your mailboxes and folders. You can quickly toggle back and forth among all three views using a Switch View menu that lives at the top of the message list.
That little bar also now contains a "Sort by" menu, replacing the previous column-based approach, à la Mac Mail. You can choose from Date, From, Subject, Unread, or Flagged in either ascending or descending order.
One wholly new feature is the Archive button, which will automatically move selected messages into a new top-level Archive folder. Google's Gmail has sported this functionality for quite some time, and this is clearly a case of Apple playing catch-up to its competition. It ought to be handy for those that pride themselves on keeping a neat and tidy inbox.
Literature and composition

Composing messages has also gotten an overhaul, with the addition of a new formatting toolbar, which sports controls for font face, font size, font color, bold, italics, underline, alignment, lists, indenting, and hyperlinks.
The 14 font faces verge from the classic (Helvetica, Palatino) to the cheesy (Comic Sans MS, Marker Felt, Papyrus), and the sizes range from 10-point to 36-point. The hyperlink tool lets you add inline hyperlinks, prompting you for link text and a URL.
One nicety that will help out in the composing window is the addition of a number of keyboard shortcuts: You can use the standard Mac key combos for bolding, italicizing, and underlining text or for saving, undoing, redoing, and even printing. Shortcuts are also available in other parts of the interface (Apple's FAQ on the Webmail beta has a list), but unfortunately, there are a couple of places where your muscle memory for the Mac version of Mail might get you into trouble. For example, Mail's shortcut for sending messages, command-shift-D, is already used in Safari for adding a bookmark to the Bookmark Menu and command-R will refresh the browser instead of replying.
Playing by the rules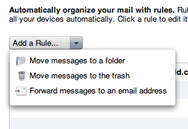 Another new feature in MobileMe's Webmail client is the longed-for addition of server-side filtering rules. Because these rules don't depend on any particular client, it means that the actions get performed before the messages make it to the inbox on your Mac, iPhone, or iPad. So if you want to make sure that messages from a certain sender always get filtered into a particular folder, you won't have to depend on launching Mail on your Mac to make sure that happens.
Unfortunately, at the moment the rules are nowhere near as robust as those in the Mac version of Mail. You can only add three types of rules: move messages to a folder, move messages to the trash, and forward messages to an e-mail address. In each case, you can base it on one of four different criteria: who the message is from, who it's addressed to, who's CC'ed, and the subject. You can also drag and drop rules to set in which order they get applied.
The big picture
Apple also claims that it has overhauled the speed and performance of the new MobileMe Webmail, and it does seem snappier. You no longer have to page through your message list in chunks; you just scroll the list, and it loads the details as you go.
MobileMe so often seems like one of Apple's forgotten products that any movement or improvement is welcome. On the whole, the beta version of the Webmail client is promising, and—if nothing else—makes us eagerly anticipate similar enhancements to the rest of the MobileMe Web tools.