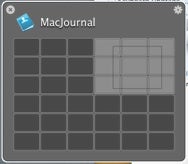 Being productive these days often means that you have windows scattered across your desktop—just like you have headphones, papers, gadgets, and Cheetos crumbs scattered across your desk. If you want some better tools for organizing and resizing your windows, Mizage's Divvy might be a breath of fresh air.
Divvy is the latest contender in a long line of window managers like MercuryMover, Fiwi, Cinch, and SizeUp. From an icon in the menu bar, you can summon Divvy's main window, which displays a small pop-up containing a grid of gray boxes. No, it isn't a game, unless you consider organizing your open apps and windows to be a game: the boxes represent your desktop space, separated into containers. You can drag your mouse across the boxes, and the front-most app will move and resize to the space you drew. Divvy makes it faster and easier to evenly spread out all of your open windows, thereby maximizing the use of your desktop space.
If you need more granularity when putting each of your windows in its place, you can press the Command key to double the number of compartments that Divvy makes available. This lets you fine tune where each of your windows should be placed and exactly how much space they take up.
In addition to this visual, mouse-driven window management tool, Divvy offers a customizable keyboard shortcut system. You can define quadrants where you usually place your browser window, iTunes, e-mail, chat, your task app, your text editor, and your RSS reader, then define keyboard shortcuts for each space. If you have a habit of moving windows around or you frequently need to overlay a number of windows, these shortcuts cut down on mouse-induced RSI, making it easier to (repeatedly) put everything in its place.
A free demo of Divvy is available; the program is a Universal Binary requiring Mac OS X 10.5 or later. If Divvy brings some order to your windowing chaos, a license costs $14.