If you've ever found yourself pretending to swing around a lightsaber or even thought about it, Lightsaber Unleashed from TheMacBox is the app for you. Now fully licensed by Lucasfilm, this virtual lightsaber will satisfy your inner Jedi.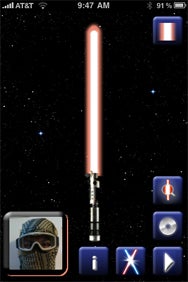 You start by selecting which Jedi to become from among sixteen different characters from the Star Wars universe. Your selection results in that character's particular lightsaber design down to the individual glow of its beam. A full screen mode fills your screen with just the glow of the lightsaber. Swing your iPhone around and you'll hear authentic lightsaber sound effects choreographed with your movements. You can also play tracks from your iPod's library or use the built-in Star Wars music adding to the experience. If you wish, you can create your own custom Jedi by selecting a name, phone, lightsaber design, and writing a short bio. Finally, two-player simulated combat is included via Bluetooth should you encounter another aspiring Jedi.
This app isn't a true game, but as a novelty it can provide some fun moments for any true Star Wars fan. The different characters do little to affect the virtual lightsaber actions, but the extensive cast does form a small database showcasing a variety of lightsaber designs. A little makeup and a video camera and you'll be ready to make the next big viral video sensation. You can't beat the price—making this an app any true Star Wars fan should never be without.
Lightsaber Unleashed is compatible with any iPhone, iPod touch or iPad running the iPhone 3.0 software update or later.
[James Savage is the host of the RetroMacCast a weekly podcast devoted to older Macintosh computers. His parents took him to a drive-in movie theater to see Star Wars in 1977.]