For years, Mac users who were tired of performing the same mind-numbing tasks over and over again used automation utilities (aka, macro utilities) to make life easier. Such programs used triggers—keyboard actions, timers, or system events—to initiate actions that you configured. So, for example, you could create a macro that, when you pressed a couple of keys from any app, would open a new Finder window in Icon view.
With the advent of AppleScript and Automator, those tools became less popular. But they do still exist, in the form of Plum Amazing's $30 iKey ( ), Stairways Software's $36 Keyboard Maestro ( ), and Startly Technologies' $60 QuicKeys 4 ( ).
QuicKeys has been around the longest—since before the birth of Mac OS X—and it has the broadest feature set. Keyboard Maestro was originally developed by Michael Kamprath; Stairways Software bought it and added an easier-to-use interface and some powerful new features. iKey also has a long history, but its features have fallen behind those found in QuicKeys and Keyboard Maestro.
Setup
All three utilities divide the macro process into three stages: You define where the macro can be activated (in all applications or just specific ones), what will trigger it (a keyboard combination, a system event, or something else), and what it will do.
Keyboard Maestro has a clean, three-column interface made up of Groups (collections of macros), Macros (the macros contained in the group), and an editor window where you define triggers and actions. Within that window, you can enable or disable groups and macros, and also click a Record button to capture sequences of clicks and keyboard presses as macros.
QuicKeys also presents its macros as collections in a Library pane, with the inner workings of those macros—the shortcuts, abbreviations, toolbars, and clips—displayed in the main portion of the QuicKeys Editor window. The interface in iKey is the most constrained, presenting all three stages in a smallish window.
What sets them apart
All three allow you to create both simple and complex macros. All three can trigger AppleScripts; QuicKeys and Keyboard Maestro can execute Unix scripts, too. Beyond those similarities, the programs begin to differentiate.
QuicKeys includes a Clips feature where you can store text or images and create shortcuts that insert them. You could, for example, create a clip of your company logo and insert it into a letter or e-mail message with the press of a key. Keyboard Maestro's Clipboards feature is similar, but harder to set up.
QuicKeys also lets you add decision points to your macros. For example, say that one of the steps in a macro could be interrupted by a dialog box; you can create a step that looks for the window and, if it appears, lets you change the macro's subsequent behavior. Keyboard Maestro and iKey don't allow that kind of conditional execution.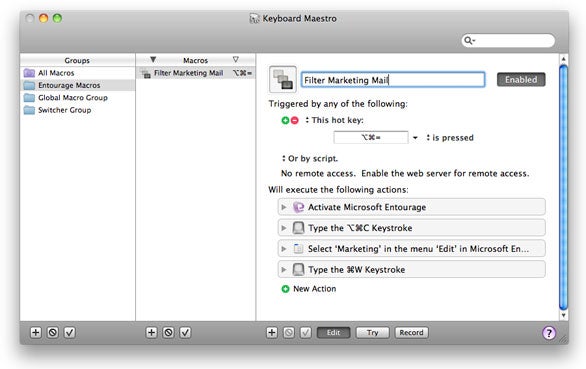 And QuicKeys has Web Actions—a way to identify and interact with elements you find on Web pages: You can enter text in fields, activate buttons, and more. Not all Websites provide the information the Web Actions feature requires, so it's a hit or miss situation. But when it works, it can be a real timesaver.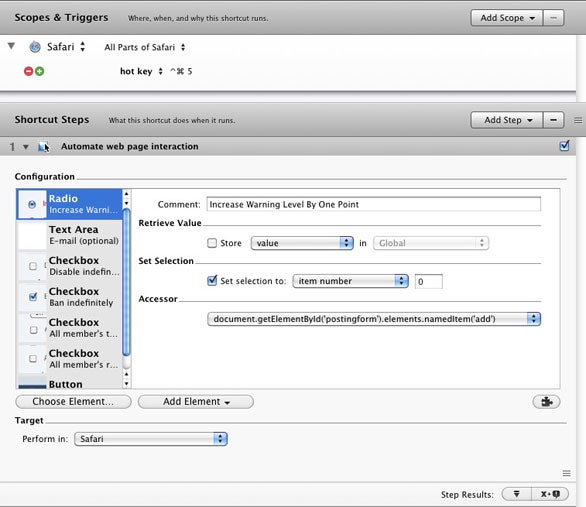 Keyboard Maestro has its unique charms, too. As with QuicKeys, you can trigger a macro with a MIDI event (playing Middle C on your musical keyboard, for example). It also has an action that plops a Google search field in the middle of your Mac's display. Enter your search term, press Return, and your browser launches and displays the results. You can also use Growl to insert actions that display a message. There's even an action for applying a BBEdit Text Factory to your files.
Of the three, iKey is the only one that can't do text expansion à la TextExpander ( ) and TypeIt4Me ( ). Also, unlike with QuicKeys and Keyboard Maestro, iKey has no iPhone app that enables you to trigger macros on your Mac from your iPhone or iPod touch.
Macworld's buying advice
QuicKeys and Keyboard Maestro are both solid utilities. QuicKeys is pricier and more powerful with its Web functionality and ability to create decision actions. But with that power comes greater complexity—plan to spend time with the manual. Keyboard Maestro is a great tool too, particularly if you work a lot with text. For $30 iKey is an affordable choice for those who need a capable but not overly ambitious macro utility.
Keyboard Maestro
Price When Reviewed:
$36 (free trial available)
Read our full
Keyboard Maestro review