Your iPad decisions don't stop once you've settled on either the 3G iPad or the Wi-Fi-only model. There's also the not-insignificant question of what apps deserve a space on your brand new mobile device.
App developers haven't made that the decision easy for you. The number of choices in the App Store continues to climb upward, with developers now producing apps optimized to take advantage of the iPad's features. Shortly after the iPad's launch, Apple said that there were 3,500 iPad-optimized offerings in the App Store, and that number has only grown between then and now.
But not to worry. Over the past month, we've kept a close eye on the iPad-centric additions to the App Store—both iPhone apps updated specifically to add iPad features or standalone offerings designed solely for use on Apple's new device. We searched across a wide spectrum of categories, from apps that help you get things done to offerings that keep you entertained. We paid special attention to apps that took advantage of the iPad's unique features, most notably its expansive screen real estate.
The end result? A list of apps that we think are essential additions to any iPad. And after you've had a chance to look through our list over the next few days, we think you'll agree.
In this installment, we're focusing on paid apps—11 great applications in all. We'll follow-up in part two with a list of essential iPad apps that won't cost you a dime to download. Then, we'll close out the week with a specific focus on iPad games. Let's get things started.
1Password for iPad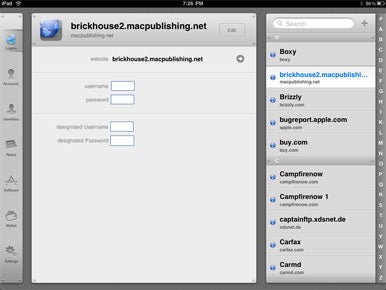 1Password, which stores online passwords and other sensitive info, is a great addition to any Mac. The $7 iPad version from Agile Web Solutions is a worthwhile extension, syncing with your computer to let you take all that data with you—securely. As with the iPhone version, you can use the iPad app's built-in browser to log in to secure Websites, or you can opt for a handy Safari bookmark that automatically switches to 1Password, finds the matching login info, and lets you switch back to Safari with the necessary password ready for pasting. But while the iPhone's small screen makes browsing your confidential data less than ideal, the iPad version's native interface is stellar—perhaps better even than the version for Mac. (The $15 version—1Password Pro—is a hybrid app that brings this functionality to all of Apple's mobile handhelds at once.)—Dan Frakes
Air Video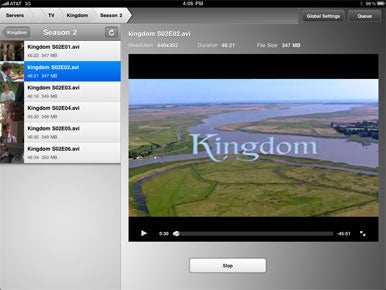 Even with the highest capacity iPad, chances are you can't load too much video into those 64GB of storage before you start running low on space. Wouldn't it be great if you could just stream all those video files from your home Mac's capacious hard drive? Air Video from InMethod lets you do exactly that. Install its server software on your Mac, enter the Server PIN in the $3 iPad app, and you're ready to rock. (The hybrid app also works with the iPhone and iPod touch.) It doesn't matter what format the original video is in: AirVideo can transcode it into an iPad-compatible file on the fly—or, if you prefer, you can queue a bunch of videos to be converted ahead of time. You can even choose which bitrates Air Video will use inside the application to optimize for slower connections, such as 3G.—Dan Moren
At Bat 2010 for iPad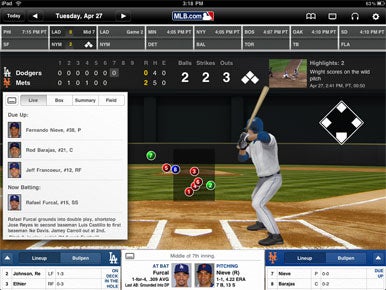 At Bat 2010 for iPad ( ) is a must-have for iPad-toting baseball fans. This $15 iPad app from MLB.com takes advantage of the iPad's expanded screen real estate to slather on almost as much data as you could ever want, mixing in multimedia features aplenty. From the app's main screen, you can flick through a scoreboard that shows all the current day's games. Tap on an active game to bring up a virtual ballfield with live pitch-by-pitch game data. Tap on the audio icon and you can choose to listen to any game's radio broadcast, with either home or away announcers. The video icon lets you watch a featured "game of the day" live; subscribers to MLB's premium video service can watch video of any out-of-market game. There's also an in-app newsreader that lets you read all the stories on MLB.com, including a "view by team" mode that lets you focus in on news about your favorite teams.—Jason Snell
GoodReader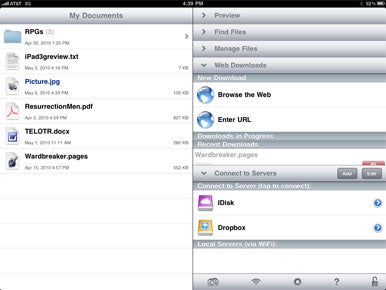 If you want to take your documents to go, the iPad provides a few different options: you can e-mail them to yourself, or upload them to a Web server. But for going beyond what the built-in software allows, check out GoodReader ( ). Good.iWare's $1 app boasts support for PDF, DOC, Pages, TXT, and a handful of other file formats. With the built-in server, you can easily drag and drop files right from the Finder on your Mac or you can download a specific URL, browse the Web, or connect to services like iDisk or Dropbox to find the file you're looking for. In addition, GoodReader lets you import images from your iPad's photo library, supports playback of audio files, lets you password protect your files, and can even reflow PDFs into plain text.—Dan Moren
Instapaper Pro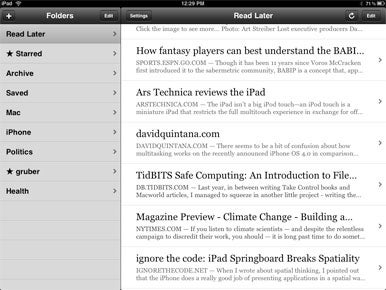 Macworld's editors are big fans of Instapaper, the Web service from Marco Arment that lets you save online articles for later reading. But it's the $5 hybrid Instapaper Pro app ( ), not Safari, that offers the best way to do that reading. The app lets you browse your saved articles, even when offline, using a Mail-like interface. When you choose an article to read, the article's text and layout are optimized for the iPad's screen. (The app also works on the iPhone and iPod touch.) You can further customize the font, font size, spacing, and margins that work best for you; there's even a gray-on-black night mode for easier reading in dim lighting. Instapaper Pro is one of the most-used apps on my iPad; download it, and it'll claim that same status on yours.—Dan Frakes
Layers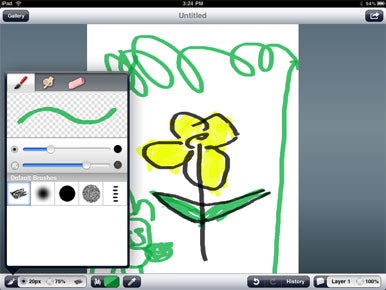 All the iPad's a stage, and few painting apps are better players than Layers Pro Edition from Gotow.net. Who needs an iPad version of Photoshop, when Layers already provides a painter's delight with a full set of brushes, color tools, and, of course, support for multiple layers for canvas flexibility. Customizable brushes give you just the right stroke, and a 30-level undo history means you can step back through your masterpiece and show others how you built it. The $2 standard version comes well equipped, while the $6 Pro version offers even more brushes and options, including an online gallery for publishing, browsing, and commenting on fellow artists's work.—David Chartier
Magic Piano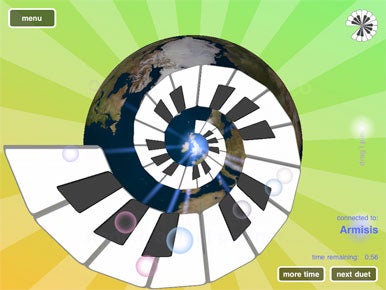 Smule's $1 Magic Piano ( ) allows you to tickle the virtual ivories in a solo setting as well as with others around the world, using a variety of traditional and non-traditional keyboards. Non-musicians will find Magic Piano a load of fun when they tap on the iPad's screen and hear something musical come out. Trained keyboard players will find both joy and frustration—joy at playing duets with another Internet-connected Magic Piano player and frustration that it's often difficult to hit the notes you're after and that so few of your virtual duet partners have any discernible talent.—Christopher Been
NetNewsWire for iPad
Everyone from Apple executives to product reviewers has touted the iPad for its news-reading experience. And while the focus may be on apps from news organizations and media titans, it turns out the iPad is just as adept at browsing your collection of RSS feeds. The superb NetNewsWire for iPad, a $10 app from NewsGator Technologies, lets you quickly scroll through your feeds, starring items that you want to remember, or sharing them with friends via e-mail or Twitter. The split-pane view makes it easy to avoid getting lost even if you've got folders within folders. There's also a built-in browser for viewing links, support for the Instapaper service if you want to save something to read later, and syncing with Google Reader and both NetNewsWire for Mac and iPhone.—Dan Moren
OmniGraffle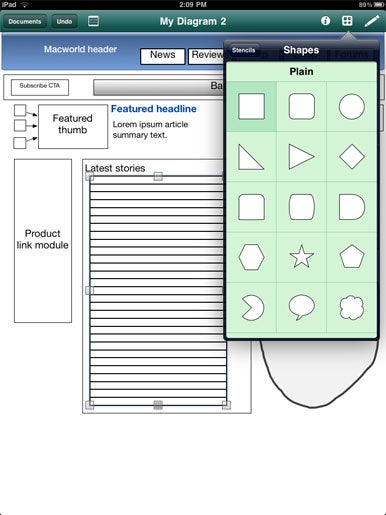 The Omni Group gave the iPad a powerful welcome with OmniGraffle ( ), the $50 mobile version of its graphing tool for anyone in need of diagrams, brainstorms, or simply a cutting edge visual canvas on which to map out an idea. The app incorporates a rich set of features from its desktop counterparts—a stencil library, smart layout guides, and rich object drawing tools—while fully embracing the iPad's multi-touch display gestures. You can create multi-page documents, and even use some features from OmniGraffle's Pro Mac version, such as sharing layers between canvases. A set of built-in themes can get you started with virtually any diagramming project, and OmniGraffle for iPad can open any documents from its Mac counterpart.—David Chartier
PCalc RPN Calculator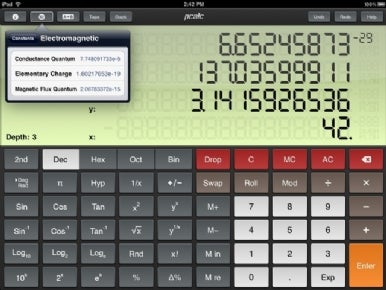 Apple didn't include a calculator app on the iPad, but that omission gives you even more reason to download PCalc ( ). TLA Systems has updated the iPhone version of this stellar scientific calculator with iPad compatibility, and it's even better on the iPad thanks to the larger screen. Sure, the buttons are much larger, making the calculator easier to use, but you also get improved layouts; popovers for settings, conversions, constants, stacks, and the "tape" that let you access those features without leaving the main display; and useful touches such as dedicated Undo and Redo buttons. If you don't need all the bells and whistles of the $10 version, the free PCalc Lite offers the basics, as well as the capability to buy particular sets of features piecemeal.—Dan Frakes
Things for iPad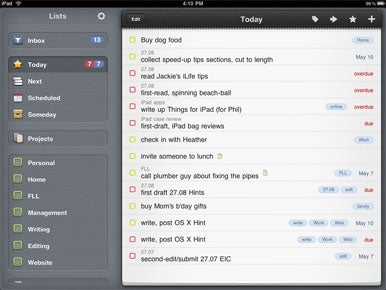 Like calendars and contact managers, iPad to-do apps don't exist in isolation: They have to keep track of your tasks no matter where you are or what device (iPad, iPhone, or Mac) you're using. So far, the $20 Things for iPad from Cultured Code is the best to-do app we've seen for the iPad, in large part because of how easily it works with the Mac and iPhone versions. On any one of those platforms, the program strikes a great balance: It's powerful and flexible enough to manage even the toughest workload, but it's not so complex that learning to use the program becomes a task in itself. And syncing your to-do lists from Mac to iPad and back couldn't be easier—you won't have to worry about buying the dog food twice.—Dan Miller