Dictionary.com for iPad, like its predecessor for the iPhone and iPod touch, provides easy access to 1 million definitions and 90,000 synonyms. (Oddly, though, Dictionary.com offers these two similar apps as standalone versions, instead of just a single universal product.)
Searching for words is simple. As you type, Dictionary.com lists suggestions that match what you've entered thus far. And if you search for a misspelling, the app lists similarly spelled words that might match, which works great. Once you've found the word you're after, the app provides a pronunciation guide (including an option to hear the word spoken). And, of course, you can see a full definition, including etymology.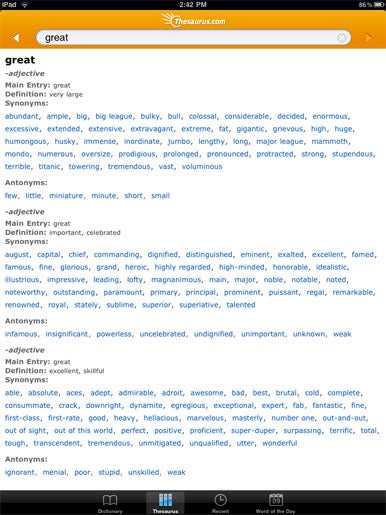 The thesaurus feature works just as well. Synonyms are all hyperlinked themselves, making it easy to jump to other shades of meanings, or to tap into their definitions.
The app's word of the day feature is a nice touch if you like that sort of thing, although there's some interface weirdness: The two tabs on the top of that screen start out blank, though tapping one of them indicates that it's meant to say "English." I'm not sure what the second tab is supposed to do.
Some of the key features—similarly spelled words, the audio pronunciation guides, and the word of the day—all require an Internet connection, but the core ability to look up definitions and synonyms works even while you're offline.
On the whole, if you prefer a dedicated dictionary to Googling words with Safari, Dictionary.com for iPad is aces, first-class, transcendent, and super-duper.
[Increase your word power with Lex Friedman at his blog.]