Jumsoft, makers of Money 3 and themes for Pages, iWeb, and other apps, has released Relationship 2, a major upgrade to its CRM (customer relationship management) app for small-to-medium businesses.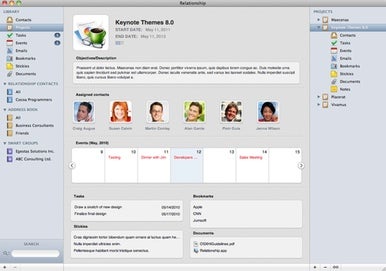 New in Relationship 2 is direct e-mail integration, including the ability to import accounts from Apple Mail, link contacts to messages, and create reminders to follow up with a customer. It also gains more advanced options for grouping contacts, event syncing with iCal, an embedded browser, and more.
Relationship 2 now has a lot of project management features, allowing users to inter-link all database items—tasks, contacts, e-mail, sticky notes, and documents—for flexible tracking. For example, users can browse the Web, then create a sticky note with ideas or URLs to follow up on. Contact cards can also display projects in which they are involved, and files can be linked to contacts for better organization and project context.
A free demo of Relationship 2 is available, and it is a Universal Binary requiring Mac OS X 10.5 of later. If you give it a whirl and find that it does indeed help you build better relationships with your customers or users, a full version of Relationship 2 costs $39.