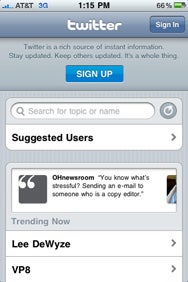 Ever since the announcement that Twitter was acquiring Loren Brichter's company Atebits and its flagship program Tweetie to create an official iPhone application, everyone's been waiting to see the result. Wait no longer: Twitter for iPhone is now available on the U.S. store.
The app, simply called Twitter, became available in the U.S. on Wednesday after scattered reports the previous day regarding the app's availability in other countries. According to Twitter, this update and rebranding isn't just a name change—"we've added a bunch of new stuff." Sadly, one of the features not added was an iPad-specific version; you'll have to continue using it in super-sized fashion.
While the new app has kept most of Tweetie's overall appearance, the search page has been completely revamped. Searching tweets and users has been simplified into one screen, and you now have the option to search phrases in and around your location.
Twitter's Top Tweets has also made it to the Search page, featuring a side-scrollable box where you can read the latest featured tweets from celebrities and thinkers. Further down on the page, users can browse trends and see suggested users.
There are a couple of few miscellaneous fixes, too: changing tweet rendering in the app to match the way it looks on Twitter.com, and the addition of a Retweet button on the main actions bar.
For those without a Twitter account, searching, browsing users, trending information, and top tweets are still available within the app at the launch screen. If they like what they see, users can sign up within the account itself, and even pick who to follow through the Suggested Users list.
Current Tweetie users can upgrade to 3.0 by checking the update section of the App Store, while new users can download the free application directly from iTunes. Twitter is compatible with all iPhone OS devices running 3.0 or later.