What a difference a month makes.
In April, I reviewed the new 13-inch MacBook Pro models, ending the review with this:
And the new models create a wider gap between the 13-inch MacBook Pros and the like-sized, $999 MacBook. Starting at $200 more than the MacBook, you get a faster processor, an aluminum enclosure, a FireWire port (of the 800 variety), twice the standard RAM, Nvidia GeForce 320M graphics, a built-in SD card reader, a backlit keyboard, a longer-lasting battery, and a trackpad that supports inertial scrolling.
And then on Tuesday, Apple went ahead and quietly updated the MacBook. Although much of what I wrote in my review still holds true, of the nine differences I called out, almost half of them are no longer issues.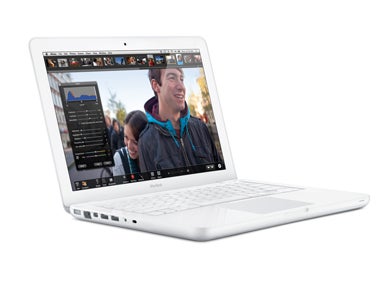 The new MacBook now comes with the same 2.4GHz Core 2 Duo processor with 3MB on-chip shared L2 cache as the $1199 MacBook Pro. It includes the same improved Nvidia GeForce 320M graphics processor; the same longer-lasting 63.5-watt-hour battery; and the same glass trackpad with support for inertial scrolling. In other words, that wider gap has just become much easier to step across.
I find it interesting that Apple has chosen to bring its consumer laptop model back into such proximity to the lower-end pro models. To me, one of the things that made the 13-inch MacBook Pro update so good was that it really made you feel good about stepping up to the pro model. You got technology differences that translated to measurable improvements. Now, the only MacBook Pro technological feature that you can't replicate on the MacBook—so not the enclosure—is a FireWire port.
I was actually considering buying the MacBook to replace my original (Core Duo) model, and decided to get the 2.4GHz 13-inch MacBook Pro after it was announced instead. If I had to make that decision today? I'd probably still go with the MacBook Pro, but I'd have to think about more carefully.
To be fair, there are still differences that I think make the extra $200 for the entry-level MacBook Pro worth it: 4GB of standard RAM versus 2GB (although both support 8GB total RAM, contrary to Apple's published specs, but Apple Care may not cover a MacBook that goes beyond Apple's recommendations), a FireWire 800 port (versus no FireWire at all), a backlit keyboard, an SD card slot, and a sleeker, aluminum-clad design. And you have the option of a faster processor if you opt for the $1499 13-inch MacBook Pro.
So what do you think? Should Apple hold back more on the MacBook to make the MacBook Pro a better value, or should the company offer the most computer it can for $999?
Apple MacBook Pro MC375LL/A Notebook