My Spot Pro allows you to send your location to any e-mail address with just a few taps. Along with your GPS coordinates, an address (if available) and a link to your location on Google maps, you can add an audio message and a picture of your spot. This could really come in handy the next time you want to let your friends know where you're at. Instead of having to call each one of them and give directions, you could just use this $2 app from Dusty Roads Media.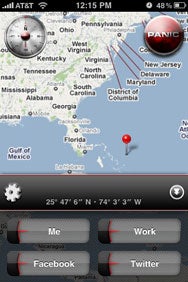 My Spot Pro uses GPS to determine your current location and displays it on an integrated Google map. If you're using an older iPhone or an iPod touch, My Spot Pro makes use of cell tower triangulation and Wi-Fi signals to determine your location. While this isn't as accurate as GPS, it's better than nothing. You can also just manually enter your location by using a contact from your address book or dragging the pin to your spot on the map.
My Spot Pro has a very clean interface. When you open the app, you see a map of your location, a compass, a panic button—more on that in a moment—and a bar across the bottom of the screen with your current GPS coordinates. If you tap on that bar, it will slide up revealing all of your My Spot buttons. These buttons are like speed dial buttons. They hold contact information and messages so you can quickly fire off e-mails with your location info to one person or entire groups of people.
When you set up your My Spot buttons you fill in the name for person or group, the contacts you want to be e-mailed and whether or not you want to post to Facebook or Twitter. You can also set up a default message as well as a picture and audio clip to be sent each time you use that particular button.
If you tap on the compass icon, it fills the screen as a working digital compass with the panic button in the center. The panic button is for emergency situations when you need people or the authorities to know your location. It works like the My Spot buttons, except it will continue to send your location repeatedly every so often until you either cancel it or the app is closed. You can choose for your location to be broadcast from every minute to every 120 minutes. Just be sure it's the real deal if you have the local authorities as part of your contacts.
Now, of course you could just use the Google maps app to send your location to your friends, but with My Spot Pro you can also send messages, audio clips and photos of your location at the same time. It would be nice to be able to send your location via text message as well since not everyone has a smartphone—at least not yet.
[Tim Mercer is a technology enthusiast, graphic designer, and blogger, whose blog, digital-artist-toolbox.com, offers free resources to the digital artist and graphic designer.]