Bowlers who like fun, unique graphics should definitely check out Game Resort's free Doodle Bowling. Even if your only bowling experience is with Wii Bowling, it's still worth checking out (after all, it's free).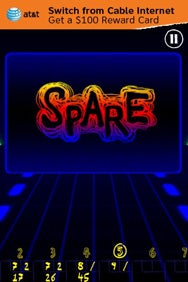 The best part of the game is easily the graphics. The ball, pins, lanes—everything—is "hand-drawn" on a piece of notebook paper—and the background is itself a piece of notebook paper (when your ball reaches the end of the lane, it makes a hole through the backing piece of paper). Of course, if notebook paper and hand-drawn-quirkiness isn't really your thing, you also have the option to purchase other themes (11, including the original theme) with credits. You earn one credit for each game you complete.
While the graphics may suggest a casual app, Doodle Bowling is still a serious bowling game through and through. You have ten rounds (each round consists of two throws) to score as high as you possibly can. Simply tap, drag, and release to "throw" your bowling ball. If your throw isn't perfect, you can also manipulate the ball as it careens down the lane by swiping the screen from side to side.
The only real drawback of Doodle Bowling is an unfortunate side-effect of its free status: you'll have to deal with intrusive ads popping up at the top of the screen. But if the ads bother you, you can spend $2 and upgrade to Doodle Bowling Pro.
Doodle Bowling isn't terribly impressive as a game, but the graphics are definitely worth a look. There's no multiplayer mode, but you can share your scores via Facebook Connect (or challenge a friend to play via email). Doodle Bowling is a good pass-the-time game, and each game will earn you a credit toward new themes, which is a pretty good incentive to play for at least a little while.
[Sarah Jacobsson is a master of the seven-ten split.]