Those of us with digital music collections accumulated over many years and from many sources know that going through iTunes and meticulously tagging each and every song requires a lot in the way of time and effort. iTagPlayer, a smart little music app from developer Igor Gorelik, promises to do the work for you for free.
iTagPlayer begins indexing your music the first time you launch the app, but it will take quite a while for it to analyze every song in the average music library. The first tags to show up are your basic rock, pop, and alternative fare, but the longer you keep the app open, the more random and obscure the genres become.
Officially, iTagPlayer uses tags "assigned by millions of other music fans all over the world," but that doesn't at all explain how or why songs fall under each category or whether you have any control over this. And whoever these mysterious tag-deciders are, they have interesting opinions.
For example, when I saw the tag "amazing" pop up, I was interested to see what music had earned this honor. Apparently, only the soundtracks to the Broadway musicals Rent and Wicked qualify, at least in my personal iTunes library. I also learned that Minus the Bear is considered "experimental," and an *NSYNC Christmas song falls under "techno." And how it decided a song featured on my high school's literary magazine compilation CD is Canadian, I'll never know.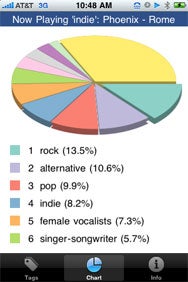 Once you tap a tag, the app gathers all of the songs that fit under that tag and plays them through your iPod application, which is nice because it means you can close iTag Player without having to stop listening to music. At the same time, if you want to leave the player open, you can tap the ticker at the top of the screen to scroll through the playlist.
Disregarding the fact that the app's genre decisions seem a bit arbitrary, iTagPlayer's other cool feature is a colorful pie chart showing what percentages of your music fall under which categories.
Though I can't say that I have any idea what constitutes "trip-hop," and I think the "american" category is probably either too broad or bizarrely defined, iTagPlayer is definitely user-friendly and could certainly save time when compiling playlists. I'd just like to know who the magical tagging elves are.
[Meghann Myers is an editorial intern for Macworld.]