It's a good day to instant message on your iPad: Beejive IM now has an iPad-native app available through Apple's App Store.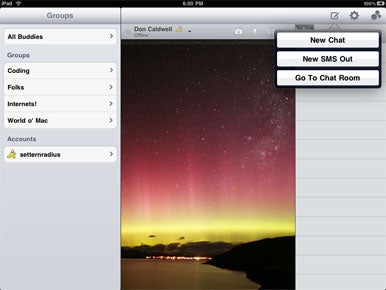 Released Wednesday, the iPad-only app showcases a redesigned interface and all of the key features BeejiveIM was praised for when it arrived in iPhone form—support for multiple accounts and services, conversation switching, push notifications, file sharing—and adds several new ones, too.
Like the iPhone version, BeejiveIM for the iPad allows users to choose between AIM, Google Talk, ICQ, Jabber, MSN, Myspace, Yahoo Messenger, and Facebook IM when first adding an account; from there, you can add and stay logged into multiple accounts, as well as manage your buddy lists and tie them to contacts in your Address Book.
When sending messages, in addition to a traditional one-on-one chat, users can choose to send an SMS or join a chat room. Inside a chat, you can now send photos and voice memos to your colleagues and friends, as well as e-mail the chat transcript. BeejiveIM features several default wallpapers for its background, or you can choose from your available photo albums.
BeejiveIM for iPad is available for $5 from the App Store, and requires an iPad running OS 3.2 or later.