If you've used the Netflix iPad app, you've probably thought how cool it would be if you could connect your iPad to a TV to watch what's streaming to the app. Someone at Netflix must have read your mind, because the company on Wednesday updated its iPad app to support video output via Apple's optional VGA, component, or composite dock connector cables.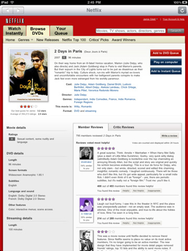 Netflix for iPad version 1.0.2 frees you from your iPad's 9.7-inch display, letting you view movies from your iPad on much larger displays at resolutions up to 1024 by 768. (It also includes some crash fixes.)
The Netflix app is a free download, but requires a Netflix subscription for access to the service's Watch Instantly content. Of course you'll also need to buy an adapter—which costs either $29 or $49—to view movies from your iPad on larger screens, but with this newfound ability, the iPad will likely become a traveling film buff's best friend.
iPad Dock Connector to VGA Adapter