The Mac version of Things, a task-management program, was released in 2009, and it didn't take long for it to garner rave reviews and a legion of dedicated fans. Devotees of the Getting Things Done organizational philosophy generally found that Things accommodated the method well.
Things is a strange beast: on its most basic level it functions as a "to do" list. And while it stops short of the level of sophistication of a project management program—the program lacks timelines, to provide just one obvious example—it can be a terrific tool for users who are juggling lots of multi-step projects, and can even accommodate multiple users.
But what's most striking about the iPad version of Things is that, like the Mac version (which won a 2009 Apple Design Award), it presents a stunning interface that could entice even the most disorganized user to, well, get things in order.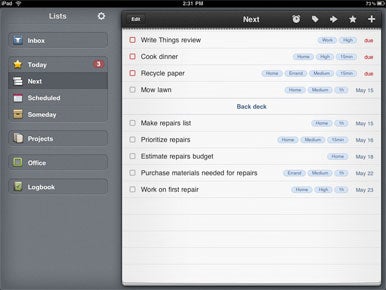 Things for iPad resembles the Mac version closely; current users of Things won't miss a beat when using the iPad app. It's important to note, though, that there's no real "learning curve" with Things, so even if you never have bought—and never plan to buy—a Mac version, Things for iPad stands alone quite well. An argument could even be made that Things is a more natural fit for the iPad because the device's portability and touch-screen interface lend itself to an app designed to help you keep track of multiple tasks in multiple locations.
Things offers users multiple methods for managing tasks and "to do" lists. You enter each "to do" by touching the plus button (+) on the upper right-hand side of the screen. When you do this, a pop-up window appears. In this window you enter the "Title" (the basic task), select a tag or multiple tags (or create a new one), enter in any notes relating to the task, and select a due date. Then you choose where you want this new "to do" to reside. Five pre-set lists are provided—Today, Next, Scheduled, Someday, and Inbox, which is where you put something when you're not quite sure where you want to put it.
If you're not familiar with Getting Things Done theory or terminology, these categories can be confusing. Fortunately, they can be ignored—and this adds real value to Cultured Code's app. If you want, you can just put everything in the default Today list and you'll be just fine. As you become more familiar with the app, you may find the categories to be useful. There's a "projects" category as well, which provides users with lots of flexibility when a new venture is poorly defined, with little certainty of what will come next beyond the first few tasks.
As with most to-do apps, after you create a task in Things, it appears in a list, and you simply check off the task when it's completed. At that point, the task goes into the Logbook, which enables users to quickly view what they've already accomplished. You can also edit tasks easily, changing their due dates, adding or removing tags and notes, and moving them to different lists. Items that are due "Today" have red-bordered check boxes, while those due in the future have gold-bordered check boxes—just one example of the many subtle visual and textual reminders that Things provides.
Users of the Mac version of Things should be pleased with its flawless Wi-Fi syncing between the Mac and the iPad. Cultured Code also offers an iPhone version of Things, but you can't sync directly between the iPad and iPhone—the Mac version of Things acts as an intermediary. Some users may find this inconvenient, but Cultured Code says that an upcoming update will enable direct iPad-to-iPhone syncing.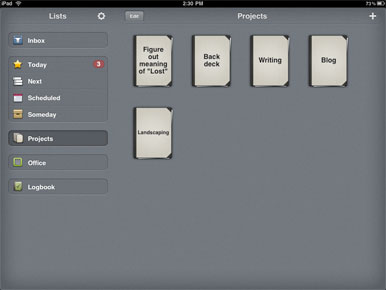 Things for iPad is a great and beautiful app, but it's not perfect. It could be improved with the addition of a calendar view, or even just a pop-up calendar that you could consult when planning tasks. And while there's an option to e-mail tasks to yourself or others, the app does not enable you to either set specific times of day for tasks, nor to set a future time to send an e-mail reminder. In addition, Things does not include an option for push notifications, which some users would probably find useful as reminders.
Another feature that's included in the Mac version of Things but is missing from the iPad version is the ability to add attachments to tasks. On the Mac, this is accomplished via drag-and-drop, and there's not an obvious equivalent to this method on the iPad.
The $20 price of Things for iPad can't be ignored, considering that there are 40 or more to-do apps already available for the iPad, all of them costing considerably less than Things. Although there is no trial version of this, or any other app, for the iPad, there is a full-featured trial version of Things for the Mac, which can give you a pretty good idea of what the iPad version is like before you plunk down $20. Cultured Code also provides a short video highlighting the "look and feel" of Things for iPad.
[Jeff Merron is a freelance writer and editor living in North Carolina.]