At a Glance
Expert's Rating
Pros
New Eyedropper tool.
Text can span or split into multiple columns.
Additional Track Changes capabilities.
Better Bridge support.
Document-installed fonts.
Cons
Direct import/export of Buzzword content requires access to CS Live.
Performance did not seem appreciably faster.
Our Verdict
Adobe's latest upgrade to InCopy, the text-editing program that integrates with InDesign CS5 ( ) page-layout and publishing software, offers a number of attractive new features in a relatively modest update. Using the two programs together, designers, writers, and editors can work in the same layout simultaneously: While the designer fashions the layout, the writers and editors fit the copy to the layout. Available for separate purchase only, InCopy CS5 introduces some handy new text-formatting tricks, as well as new and enhanced collaboration and productivity features.
Working with text
One of the best new features is the Eyedropper tool, available only in Layout view. Long a staple of InDesign's toolkit, the Eyedropper now allows editors to make quick work of repetitive formatting tasks by letting them copy the style of one text selection and quickly apply it to another bit of text with a single click.
So, for example, if you want the photo captions in your brochure to be styled consistently, create a caption in the style you want to use (font and color, for example), select it, click the Eyedropper tool in the Tools panel, and then apply that style by simply clicking on each subsequent caption.
Another slick addition in the Layout view is the span columns/split columns feature, which offers flexibility to writers and editors. With this, you can take a text selection—such as a long headline that takes up several lines of a single column—and make it span across multiple columns; or, conversely, you can split a single-column selection into multiple columns within a single text frame (without asking the designer to create new text frames for you).
Let's say you want to save space in your layout by dividing a long single-column bulleted list into two shorter, side-by-side columns within a text frame. You just select the bulleted text in Layout view, choose Window->Type & Tables, choose Span Columns from the Paragraph panel's drop-down menu (Window->Type & Tables->Paragraph), and in the resulting Span Columns dialog box select Split Column from the Paragraph Layout menu. From there, you can specify the number of subcolumns for your list, and adjust the amount of spacing above and below the list, as well as the space between the subcolumns.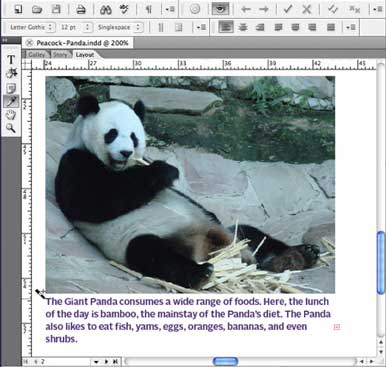 This feature will be a boon to many writers and editors, depending on the type of publication they're producing. For lengthy, recurring publications like Macworld, the format and styles are already set in stone by the designers, so editors don't have the leeway to change a single column of text into multiple columns (instead we ask—politely). But for many other kinds of projects in which writers and editors have more discretion over the final product, span/split columns is very cool.
In a smaller tweak, the Links panel now includes additional information about linked objects, including keywords, which you can use to generate image captions.
Collaboration
InCopy is all about working with others, so it's no surprise that this update offers some new collaboration tricks.
Track Changes has gained a bit more muscle. You can now accept and reject changes by user, whether in a single story or document-wide. So if several colleagues have contributed to a file but you've only had a chance to review the tech editor's changes, you can accept or reject those while leaving the other changes intact. The icons in the Track Changes toolbar look a bit more intuitive. And happily, Track Changes is now available in InDesign CS5, too, which should improve communication between designers and editors: Designers will now be able to see all changes in their Story Editor, which will make things like notes easier to see; and if an art change requires the designer to, say, retype a headline, the changed text will be clear for all to see.
A new feature in InDesign CS5 called Document-Installed Fonts works with InDesign's existing Package feature, which allows the designer to consolidate all of the pieces of a layout into a single folder. That folder encloses a copy of the InDesign layout, all of the files placed in that layout, and a subfolder of the fonts used in the document. If you open that InDesign layout in InCopy CS5, the document's fonts will now load automatically; previously, you had to manually install the fonts on your hard drive. This feature ensures that anyone who works in the layout has the necessary fonts—even if they've neglected to keep the fonts on their computer up-to-date.
InCopy CS5 has tightened its connection with Adobe Bridge, the Creative Suite application that lets you manage the images, audio, and video associated with your documents. You can still jump to Bridge from InCopy by choosing Browse In Bridge from the File menu. But you can also now enjoy Bridge access without leaving InCopy, thanks to the new Mini Bridge panel (Window->Mini Bridge). You can use it to create thumbnails, preview images, and even place an image in an assigned text or image frame—all without leaving InCopy.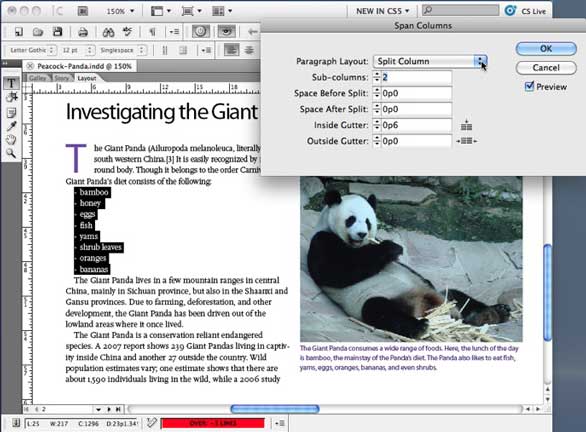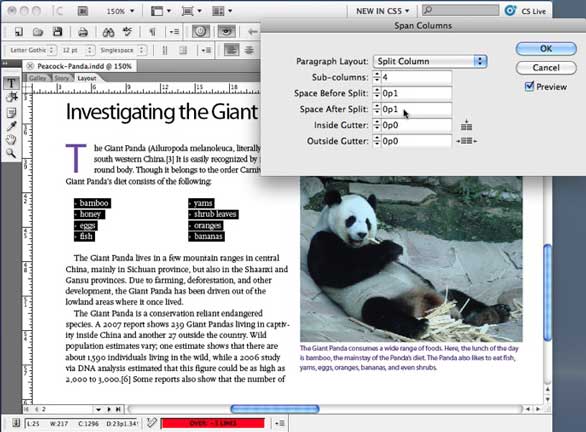 This update enhances support for Adobe's Acrobat.com Buzzword, a Web-based word processor that's part of Adobe's CS Live Web services. Buzzword lets multiple people create, edit, and store text documents online. Now, you can import and export Buzzword files directly to and from InCopy documents. Full access to CS Live is complimentary for one year.
Working more productively
Several new and improved features aim to help you work faster and more efficiently. One is the redesigned Layers panel. It now reveals all of the elements on a given layer, so you can turn the visibility of individual elements on and off. If an image wrap is obscuring some text, for instance, you can temporarily hide the image to see and edit the text behind it.
A new Tool Hints panel (Window->Utilities) shows you how pressing modifier keys will change the behavior of your selected tool. Also, you can now zoom in and out in a document while a dialog box is open. So if you start running a spell check, for example, and find you need to zoom in to see a word better, you can press Command-Plus Sign to zoom in, even while the Check Spelling dialog box is open. A new multithreading capability intends to make saving complex files—those with lots of stories—zippier. When I tried saving a document with 70-plus stories, first in InCopy CS4 and then in CS5, I found little or no performance gain; but your experience may vary, depending on the files you work with.
You'll also notice a few minor interface tweaks. Some menu commands have moved to slightly different locations—the Character and Paragraph Styles options now appear in a Styles submenu under the Windows menu. The default font has changed from Times to a cross-platform version of Minion Pro Regular.
Macworld's buying advice
InCopy CS5 provides a variety of minor but welcome improvements and mostly helpful new features—from the new Eyedropper tool, the span/split columns feature, and enhanced Track Changes to a more useful Layers panel and better Bridge support. Whether you find certain of these features compelling will depend on the kinds of publications you produce. But in any case, if your design colleagues upgrade to InDesign CS5, then you'll want to make the move to InCopy CS5 as well.
[Sally Zahner is Macworld's assistant managing editor.]