Chances are you launch apps and open files dozens of times a day. And if you're using the Dock, the Finder, or Spotlight to do so, chances are you could do so more efficiently.
That's why we think that every Mac user should have some kind of launcher—a utility that makes launching programs, opening files, and other everyday chores a lot easier. A launcher is one of the most useful utilities you can install on your Mac; for many of us, that's one of the first things we do whenever we get a new machine.
But choosing a launcher isn't as simple as it sounds. Here's how we'd walk you through that decision.
Hands on the mouse
If your hand spends more time on the mouse than on the keyboard, you should look at a mouse-driven launcher, such as Mabasoft's $19 Application Wizard ( ), Stunt Software's $15 OverFlow ( ), or TLA Systems' $29 DragThing ( ).
All three let you create customized docks, in which you can place applications, folders, files, and more. You can do the same with OS X's own Dock. But OS X's Dock can only hold so much before it gets unwieldy. These third-party utilities can accommodate way more items.
Application Wizard does so by placing four colored buttons in a small panel on the side of the screen. Clicking on those buttons opens up four completely customizable menus that can hold as many items as you want. Overflow has a single dock, but you can create multiple categories within it; the number of categories and items within them is limited only by the size of your screen. DragThing lets you create multiple docks and multiple sections (layers) within them; you could, for example, create separate docks (or layers) for remote servers you regularly access, and another one for local folders.
Anything you can select in the Finder—applications, files, folders, and volumes—can reside in an Application Wizard menu or an Overflow dock. DragThing accommodates those items plus URLs and clippings (little bits of reusable text). If you put a container—such as a folder or volume—into a DragThing or Overflow dock, you can then drag items onto it to copy or move them there. DragThing folders are also spring-loaded (drag an item onto one and its contents will appear).
DragThing is by far the most powerful of the mouse-based launchers, followed by Application Wizard and Overflow; they follow that same order when it comes to the time it takes to set them up. Configuring DragThing can be a chore: For any given dock, you've got nearly 50 different options. Application Wizard isn't quite that bad, and Overflow is much, much simpler.
Hands on the keyboard
If you prefer the keyboard to the mouse, you could use Spotlight to find and launch apps, files, folders, and more. But Spotlight is focused more on searching than launching. More often than not, you'll have to scan through its results to find the thing you want to open. It can be slow, and it's not particularly configurable.
So if you want a keyboard-based launcher, look beyond Spotlight. When you do, you'll find two kinds of choices: lightweight and heavyweight.
There are a bunch of lightweight options out there, including Google Quick Search Box, Launchy, Namely, TapTap, and a relatively new one called Alfred.
Unlike Spotlight, these utilities are designed from the ground up as launchers: They specifically focus on finding and opening files and applications. (Some can also launch Web searches.) They're easy to set up and use. And because they maintain their own indexes, they're quick. But they really are pretty lightweight. For example, if one of them finds a file, it might let you open it in the Finder but not launch it in an associated app.
If you want more flexibility in what you find and what you can do with it, you need one of the heavyweight launchers: Many Tricks' $20 Butler ( ), Objective Development's $35 LaunchBar ( ), or the free, open-source Quicksilver ( ).
Those three ably handle the simple stuff—finding and opening files and applications—but they often do a better job of it than their lighter competitors. For example, they can learn what you want. If you type xl and then select Excel from the resulting list often enough, Excel will eventually start appearing at the top of your results list.
These heavyweights can also do more with what they find. When Quicksilver finds a file, for instance, it can perform 21 separate actions on it, from opening it in a chosen app to copying or moving it; Butler and LaunchBar give you similar flexibility. You can also use all three to initiate Web searches, perform quick calculations, insert text snippets, manage your clipboard history, and more.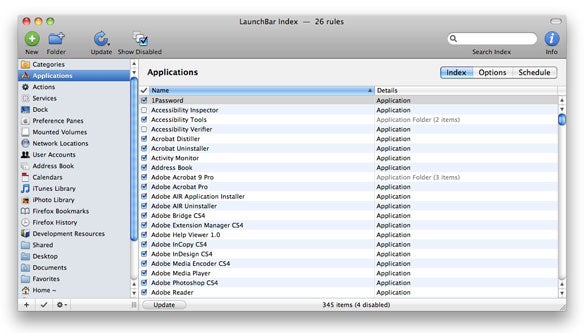 All three are also almost infinitely configurable—too much so, for some users. (Butler's configuration screen is particularly daunting; the vendor says that it will be revamped later this year.) You can assign hotkeys to almost anything, customize the look and feel, and much more. Fortunately, each of them works pretty well as is, so you don't need to spend too much time wading through those configuration screens if you don't want to.
Macworld's buying advice
If your hands are on the mouse more than on the keyboard, Overflow is a good basic choice. If you need something more powerful and are willing to spend the time configuring it, DragThing is the best bet.
If you're more keyboard-centric and want a simple way to open files and launch apps (and not much else), almost any of the lightweight options is worth a trial run; though it's still in beta, Alfred looks particularly promising.
If you want a keyboard launcher that will do more, I think the best choice right now is LaunchBar. It's well supported, with good documentation. It's extremely flexible, yet its configuration screen won't make you scream. Quicksilver's interface and documentation aren't great; for an app as powerful but quirky as this, they should both be better. Also, Quicksilver and some of its plugins have become unstable, particularly with Snow Leopard. Butler is incredibly powerful, perhaps the most customizable of the bunch; if its coming revamp solves the interface problem, it should be every bit as good as, if not better than, LaunchBar.
One final note: The distinction between keyboard-based launchers and those that use the mouse isn't really that binary: There's no reason you can't use both kinds. For example, I know some people who keep Launchbar around for launching apps and Web searches and DragThing for managing files. It's entirely up to you and your workflow.
Dan Miller is an executive editor at Macworld.