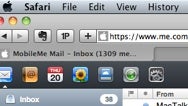 A much-improved Webmail beta isn't the only MobileMe trick up Apple's sleeve lately. The company updated MobileMe across the board this week, with a sync nip, a security tuck, and a handful of other tweaks.
The full changes are detailed in this support document. For one thing, MobileMe Gallery now supports publishing videos from Aperture 3. Apple also notes a few recent updates like the iDisk app for iPhone gaining type-ahead support for e-mail addresses, and Find My iPhone being accessible from Mobile Safari on iPhone, iPad, and iPod touch.
Answering some long-standing concerns over the security of MobileMe's Web interface, Apple has finally enabled SSL for all apps. You can easily check for yourself, too: you should now see "https://"—the "s" stands for "security"—instead of plain ol' "http://" throughout the site now instead of just the login page. A strength indicator is now displayed when changing your MobileMe password online, and you can even click a link to have a complex password auto-generated for you. For bonus points, auto-generated passwords are plainly displayed so you can copy and paste them to other apps or password managers.
Lastly, Apple improved sync reliability for iDisk and Contacts, and you can now convert MobileMe e-mail aliases to Family Pack member accounts. Apple also detailed the major features included in the MobileMe Mail beta, but note that the beta is still available only on a sign-up basis.