The following article is excerpted from Digital Arts.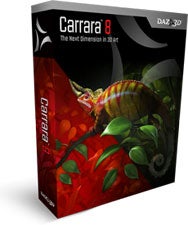 DAZ 3D-Gizmoz has released Carrara 8 and Carrara 8 Pro, new versions of its 3D modeling, animation and rendering suites that promise improved animation tools, enhanced lighting, new vegetation tools and optimized rendering.
Professional artists utilizing the Carrara 8 Pro toolset will gain access to 64-bit compatibility for Mac and Windows, as well as the Bullet Physics Library. This open-source, advanced physics toolkit allows artists to use rigid and soft body dynamics. The company says that, combined with the speed improvements achieved from the new support for multi-threading and 64-bit hardware, Carrara 8 Pro drastically improves productivity.
Updated export capabilities allow game developers to transfer custom figures, environments and/or animations directly into the Unity game engine via the FBX file format.
Other new features include improved plants and vegetation. Users may add custom models and textures for unique leaves, flowers, fruit, and more. Artists may also use a variety of different leaf objects per plant for increased natural variation.
Users of Carrara 8 can complete important clean-up and detail work on conforming objects while the model is posed or conformed. This allows the user to see immediate results as they work.
Enhanced lighting tool include negative lights, God rays, barn doors on spotlights, and the much-requested capability of photometric (IES) lighting.
DAZ Studio's Puppeteer has been added to the Carrara 8 toolset, enhancing animators' ability to quickly create realistic animated figures that may be recorded and used as animation clips. Network rendering improvements include the ability add and remove nodes via their master machine, render frames or buckets as desired for greater safeguarding against lost render data.
Carrara 8 costs $250. Carrara 8 Pro costs $549.