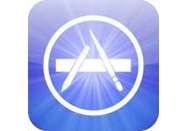 Apple has quietly launched localized versions of the iPad's app store for its international customers, approximately one week ahead of the device's introduction in foreign markets.
According to multiple reports collected by Engadget, customers throughout Europe and Australia are discovering that they can now purchase and download apps from their local App Store. Separately, Macworld confirmed that the Canadian App Store has also been updated to include iPad apps.
This move will come as good news for international customers who bought their iPads when it launched in the United States on April 3. Until now, their only option for purchasing and downloading apps was to obtain an American iTunes account, which, although not impossible, required some fancy maneuvering and raised questions of dubious compliance with Apple's policies.
The iPad launches internationally on May 28, when both the Wi-Fi and 3G + Wi-Fi versions of the devices will go on sale in nine countries: Australia, Canada, France, Germany, Italy, Japan, Spain, Switzerland and the United Kingdom. Pricing varies from country to country due to a number of considerations, including local tax laws and import regulations—a fact that has been the source of some controversy since the release date was announced ( and then postponed) by Apple.