Booq, maker of premium bags for Apple notebooks and other gadgets, announced on Thursday an Apple-exclusive bag for commuters who want MacBook and iPad flexibility.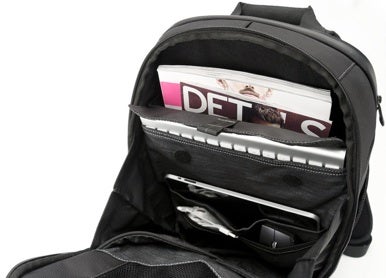 The new Mamba Shift M in denim is designed for the 13-15-inch MacBook and MacBook Pro. But unlike Booq's other Mamba bags, this model features thin pockets outside the main notebook compartment that fit the iPad and Apple's Wireless Keyboard.
In addition to other storage for magazines, small gadgets, and keys, as well as a pouch for cables and other extras, this looks like a well-balanced new bag for those who frequently want to carrier their MacBook and/or iPad.
When Booq says this is an Apple-exclusive bag, though, it isn't kidding: the Mamba Shift M in denim is not available in Booq's online store. It is only available in Apple's online store and a handful of U.S. Apple retail stores—such a small handful, in fact, that Booq published a link list of stores in the bag's description on its site.
Booq makes no mention of a limited run for this bag, so if you aren't lucky enough to be near a relevant retail store, you probably have time to bribe a friend to pick one up for you. Unfortunately, the bag gods were frowning upon me when inspiring Booq to create such a bag, since my MacBook Pro is of the 17-inch clan. The Booq Mamba Shift M in denim costs $150, and we're looking into grabbing one for review.