Apple may be enjoying strong initial sales for the iPad—the company did sell 1 million units in the 28 days after it launched the device, after all. But one report suggests that Apple could be reaping another benefit from the iPad's early popularity in the form of increased market share for the Mac OS.
Chitika, a search-based online advertising network, monitors the traffic coming into its network from different operating systems. And according to a report released Thursday, the percentage of Macs spiked during the month of April.
Macs had a 7 percent share of Chitika's advertising network from January through March, says Daniel Ruby, Chitika's research director. But that percentage jumped to 10.25 percent in April—a spike that notes Ruby came as customers were flocking to Apple Stores to pick up the iPad during last month's launch. (Edited to add: Note that the Mac OS X numbers cited in the Chitika report only include the desktop OS; traffic from the mobile OS used by iPhones, iPads, and iPod touches is placed in a separate category.)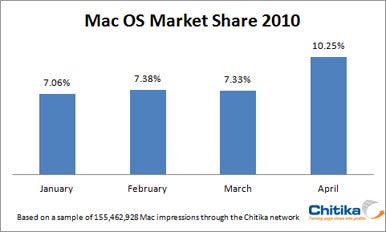 The Mac's gain in traffic seemingly came at the expense of Windows. For the month of April, the percentage of traffic from Windows users fell to 85 percent from 89 percent, according to Chitika's tallies.
"It's hard to say what the cause of the OS X spike in impressions in April is," Ruby writes in his report. "It's hard to believe the iPad truly drove that many sales of Macs, and there are other possibilities—more existing Mac usage, a higher proportion of Macs being used for web-browsing, or other reasons—but the impression growth is impressive, and should bode very well for the future of Apple."
To get its measurements, Chitika looks at the traffic coming into its ad network. Any time a user comes across a Web page with Chitika's data on it, the company can tally the referring site, operating, system, and browser. "Generally, we see between 10 and 15 percent of the Internet at any given time, and each month we see over 200 million unique users," Ruby told me via e-mail. Not a perfect sample, Ruby concedes, but Chitika believes its numbers are substantial enough to accurately reflect market share. The numbers in its latest are based on a sample of a little more than 1.9 billion impressions across Chitika's network between January and April.
Apple's own sales figures would suggest that more Mac users are out there. The company sold 2.94 million Macs during the March quarter, typically a slow period for Mac sales. The company sold 606,000 Macs through its retail stores during that quarter, about half of which were sold to customers new to the Mac.
Even if you're skeptical that Chitika's figures are influenced by iPad purchasers giving the Mac a second look, the concept is not unprecedented. During the iPod's explosive growth nearly a decade ago, Apple saw its Mac sales grow as well—a phenomenon that came to be known as the iPod halo effect. While it's way too early to even guess as to what the iPad's impact on fortunes may be, it's certainly worth keeping an eye on signs of whether the new device introduces a new set of customers to Apple's other products.
Apple iPad Tablet Computer