Six weeks into the post-iPad world, has Apple's tablet really had an impact? According to a pair of surveys by ChangeWave Research released on Thursday, the iconic device has indeed. If anything, the consumer response to the iPad has only increased since its release.
Demand is in supply
The first of the two surveys measured future demand for the iPad among 3,174 consumers. Of them, 7 percent said they're very likely to buy an iPad and 13 percent said they were somewhat likely. That handily beats the figures from ChangeWave's pre-launch survey in February 2010, which recorded 4 percent as very likely and 9 percent as somewhat likely.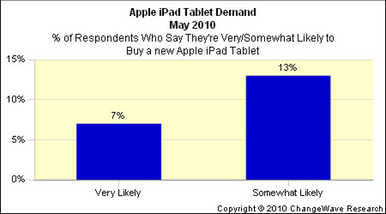 During a presentation of the materials, ChangeWave director of research Paul Carton also pointed out that a significant percentage were looking to buy an iPad in the next six months or so, predicting a solid holiday season for Apple's device. He also added that while buying an iPad appeared to put a dent in laptop purchasing plans for some respondents, the iPad has also resulted in a potential halo effect, driving further sales of Apple's products, including Macs.
ChangeWave dug a little deeper into one particular aspect of the iPad: the device's utility as an e-reader. Questioning a subset of 245 respondents who identified themselves as e-reader owners, the firm found that while the Kindle still holds a powerful chunk of the market at 62 percent, the iPad has gained a surprising amount of traction in a short amount of time, placing it in second place with 16 percent—almost double the share of third place Sony.
So what are users reading? While the vast majority have read a book on their device of choice, the last few months have seen surprising gains in newspaper and magazine consumption. In February, those numbers stood at 11 percent and 7 percent respectively; in May, they've jumped to 18 percent and 14 percent. iPad users in particular were more likely to read that kind of content with 50 percent reading newspapers and 38 percent reading magazines versus 14 percent and 11 percent of users of other readers.
Then again, it's not clear from the survey what exactly counts as a "newspaper" or "magazine" here: for example, what about browsing the New York Times Website or using the free Times iPad app? Given that it costs money to subscribe to the New York Times's content on the Kindle—as well as that of many other newspapers and magazines—that could skew responses towards the iPad. ChangeWave didn't reply to a request for clarification on its methodology.
Can get some satisfaction
Of the 153 iPad owners surveyed by ChangeWave in its second survey, 74 percent described themselves as very satisfied with the device, with 17 percent saying they were somewhat satisfied. Both the "somewhat unsatisfied" and "very unsatisfied" crowds registered at 1 percent while 8 percent said they didn't know.
Topping the list of favorite features was the screen size and quality at 21 percent, followed by ease of use at 15 percent, overall size and weight at 12 percent, and portability at 10 percent. There were some gripes, though, with the absence of Adobe Flash topping the list at 11 percent. Meanwhile, 9 percent said that they had issues with Internet connectivity—ChangeWave attributes this mainly to owners of the Wi-Fi-only model—7 percent complained about a lack of apps, and another 7 percent knocked the iPad for being too heavy.
Despite those issues, ChangeWave said it didn't find any "smoking gun" across the breadth of iPad owners; however, a number of iPad owners said they missed having a camera on the device.
Finally, iPad users dished on what they used the device for. Unsurprisingly, Web surfing and e-mail topped the list at 83 percent and 71 percent respectively, with 56 percent downloading apps from the App Store, 48 percent watching videos, 33 percent reading e-books, 29 percent playing games, 28 percent reading newspapers and magazines, and a mere 18 percent listening to music. Despite the claim by many that the iPad is suited only as a media consumption device, it seems that's not necessarily the case.
It certainly seems as though the iPad is off to a blockbuster start. With more than 1 million iPads sold already, Apple seems to have single-handedly breathed life into a brand new category of device. And consumers seem to be responding, if this survey is in fact any indication of the prevailing market.
Apple iPad Tablet Computer
iPad with Wi-Fi 16GB
Price When Reviewed:
$568
iPad (2010)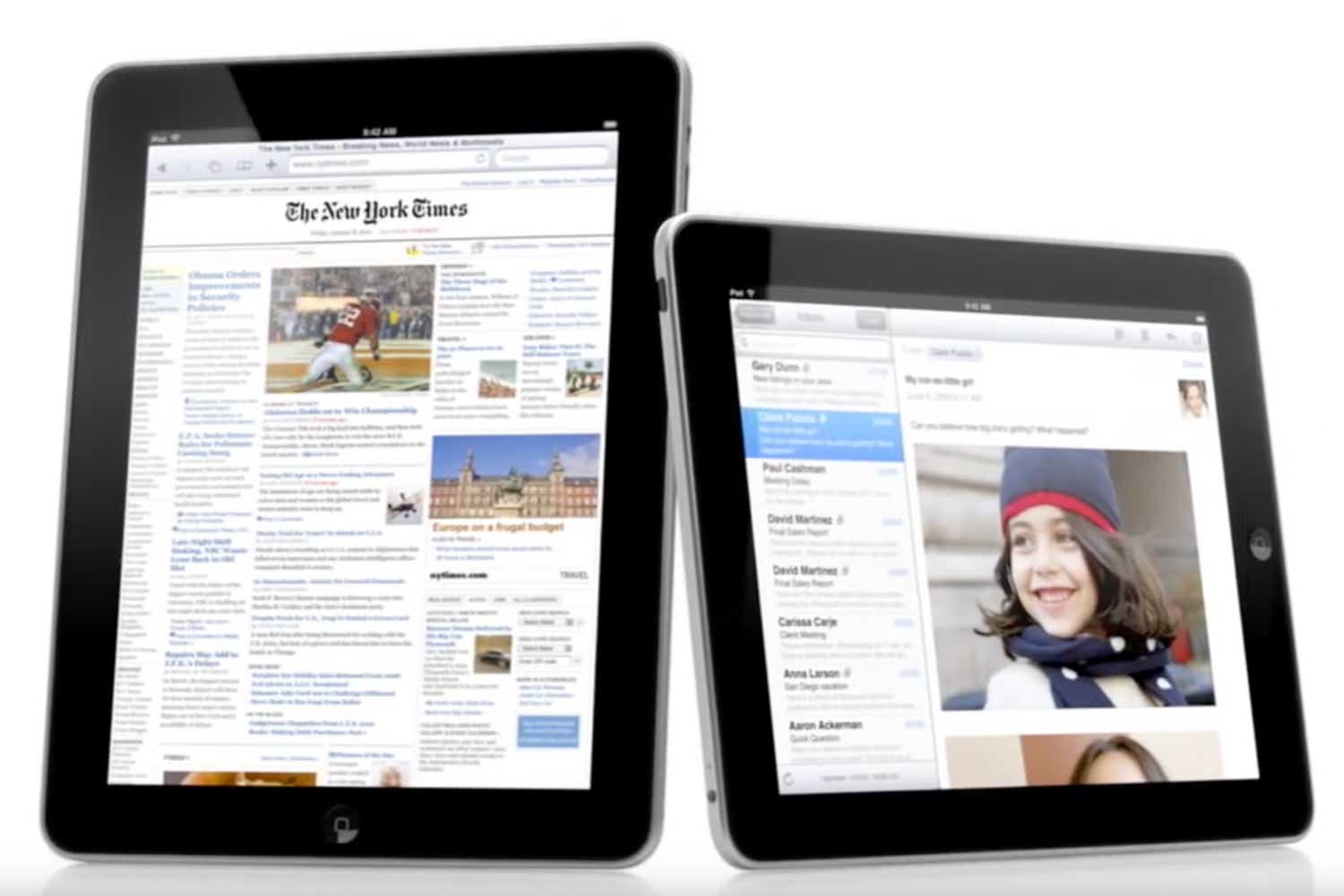 Read our full
iPad (2010) review
Apple iPad Tablet Computer