Macworld's editors recently celebrated some of our favorite iPad apps: 11 paid essentials, nine free ones, and 10 great games. But as anyone who's used an iPad after owning an iPhone or iPod touch can tell you, nearly as notable are those apps that aren't available for the iPad—the ones you've grown to love on Apple's smaller screens that haven't yet seen iPad-optimized versions, leaving you to use them "pixel-doubled" (blown up to fit the iPad's screen).
As part of our survey of editors' favorites, we asked which iPhone apps editors most missed when using the iPad. Not surprisingly, given varied personal preferences and the sheer number of iPhone apps available, the results were all over the map—many apps were named by only a single editor, with only a few garnering multiple votes. Even so, some obvious categories of apps emerged, as well as a few individual standouts. Read on to see which apps Macworld's editors want. In the process, you'll get a peek into how we use our iPads.
Apple's apps
It's more than a bit odd—not to mention disappointing—that many of Apple's own iPhone apps haven't made the jump to iPad-optimized status. The most obvious example is the excellent-on-the-iPhone Remote, which lets you control iTunes, Apple TVs, and AirTunes over your wireless network. As the iPad version of iTunes ably demonstrates, an iPad-optimized version of Remote would make browsing and controlling your media much more enjoyable.
But other Apple apps would benefit from that additional screen real estate, as well. For example, who wouldn't prefer to view images in the MobileMe Gallery app at the iPad's native resolution rather than zoomed in? And those of us who've used the latest version of Dropbox on the iPad quickly realized the benefits of browsing and viewing files at higher resolution; we'd like to see the same kind of update for Apple's MobileMe iDisk app. C'mon, Apple— if thousands of third-party apps have been updated for the iPad, why haven't your own?
Writing tools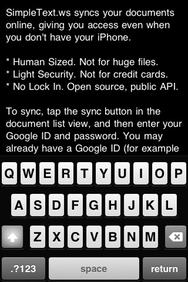 As writers and editors, we obviously have a predilection for writing software. And we've spent quite a bit of time typing on the ipad. So it's no surprise that a few writing and editing apps made several lists. For starters, we love the Mac version and iPhone version of WriteRoom, the full-screen writing app—we don't always need the word-processing features of Pages, and WriteRoom bests Pages in a number of ways, including online document syncing and editing, all-document searching, and TextExpander integration. We'd love to be able to use those features at the iPad's native resolution. (Thankfully, WriteRoom for iPad is on the way.)
Speaking of TextExpander, this utility for adding repetitive and lengthy text snippets by typing shorter abbreviations is especially useful when using an iPad or iPhone's virtual keyboard. While the iPhone version works on the iPad, and properly syncs with the Mac version, a bigger, higher-resolution screen is always better for text. (We'd also love to see more iPad apps include TextExpander integration.)
Finally, while Apple's Pages and Numbers apps let you view Word and Excel documents, respectively, they're less adept at letting you edit those documents without losing data—for example, Pages strips comments from Word documents and automatically accepts tracked changes. DataViz's Documents To Go, which handles such tasks much better than Pages and Numbers, is a handy tool for an editor to have around; it even lets you access documents in Google Docs and Dropbox. For the same reasons mentioned for other writing apps, an iPad-native version is in demand. (The developer claims to be working on just such an update.)
Pastebot
Patebot is the Swiss Army Knife of text utilities for the iPhone, and while it could have been included with the writing tools, above, it garnered enough votes to be mentioned on its own. Pastebot syncs your Mac's clipboard with your iPhone's; lets you store frequently used bits of content for easy pasting; provides information about content, such as text word count or image size; and lets you reformat and process text and tweak images. Needless to say, this last set of features would shine on the iPad's screen, and having more room to work would allow the developer to make it easier to access useful features that currently require digging down into sub-screens.
Reeder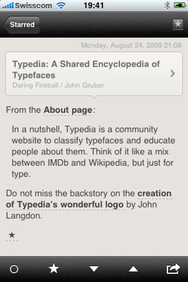 NetNewsWire for iPad is a great app—we included it in our list of essential paid iPad apps—in part because the developer exhibits an admirable focus on getting the basics right, even if it means leaving out features, options, or buttons some RSS junkies crave. But being just such junkies, a number of Macworld editors are fans of Reeder, an RSS/Google Reader client that does just about anything a heavy user of RSS feeds could want. We're anxiously tapping our fingers—on the table, not the iPad's screen—waiting for a version of Reeder that, like NetNewsWire and Instapaper Pro, takes advantage of the iPad's larger screen to provide an even better reading experience.
Media and remote apps
We're admittedly media addicts. Between the various Macworld editors, we've got innumerable Sonos and Squeezebox systems, Rokus, Apple TVs, DVRs—you name it. So in addition to Apple's Remote app, we've got a long list of media-focused apps we'd love to see make the move to the big screen. These include wireless-remote apps such as iPeng (for Logitech's Squeezebox systems), the Sonos Controller app for Sonos devices, and the DirecTV app; as well as SlingPlayer Mobile, for remotely watching content served up by your Slingbox. The iPad is a compelling device for remotely accessing and controlling your media, and we want to do more of that.
Social-media apps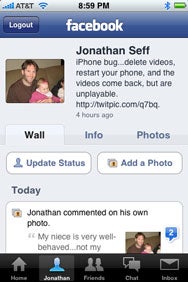 Macworld editors are very social people—or at least active users of social-media networks, if the number of votes for social-media apps is any indication. Or perhaps it just reflects how different our tastes in both platforms and app interfaces really are. In any case, we collectively nominated a slew of different apps for participating in and monitoring social networks, including Tweetie 2 (which, in the few days since our survey took place, has been released as the official Twitter app), TwitBird, Skype, BeejiveIM (which also just saw an iPad-native release), Flickr, Brightkite, Reddit, Ember, and Facebook.
The absence of an iPad-native version of the Facebook app is the most surprising, given how much Apple and Facebook have promoted the iPhone version—not to mention that Facebook for iPhone is an excellent example of an app outshining the Website of a Web-based service.
News apps
The iPhone and iPad are great for consuming the latest news and information, so it's no surprise that a number of editors are hoping for iPad-optimized versions of their favorite iPhone news apps. As with Facebook, the lack of an iPad-specific CNN app is disappointing—the iPhone version is one of the best examples of what a news organization can do on the iPhone OS, so we expected CNN to hit the ground running when the iPad was released. On the other hand, the New York Times' iPad-only NYT Editors' Choice app is beautiful, but it provides access to only a fraction of the content available through the New York Times iPhone app. Combine the two, and you've got a winner, NYT! And, of course, we'd like to enjoy the latest from The Onion in all its glory.
Photo-editing apps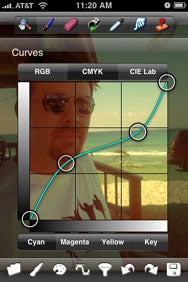 We admit to being a bit stunned by how many image-editing apps have been released for the iPhone. After all, with a screen that small, you wouldn't think so many people would be editing and managing images…yet there are hundreds of such apps. The iPad's screen, on the other hand, feels ideal for working with images, and we're looking forward to larger-screen versions of apps such as Photoshop.com Mobile, PhotoForge, and Postage to do more on-the-go image manipulation.
That's not all…
Of course, we haven't even touched the myriad games we'd like to see reworked for the iPad, and there are plenty of other iPhone apps we use that have the potential to be even better on an iPad: iBird Explorer Pro, Billings, iSale Mobile, iHome+Sleep, MenuPages, and OpenTable, to name just a few staff favorites. But it's still early—the iPad has only been available for a month and a half—so we expect many of these apps to make the move…eventually.
How about you? Which apps do you use on your iPhone that you'd love to see make the jump to the iPad? Let us know in the comments.