As Macs move from the home office to the living room, people increasingly want to connect their computers to their TVs and AV gear—setting up a Mac mini-based media center, for example. The audio connection has been simple enough—just string a stereo cable between the Mac's Audio out port to an input port on your receiver. But video has been more challenging. Few TVs offer DVI ports so, up to this point, it's been a matter of using an adapter that converts DVI to composite video or paying for a DVI-to-HDMI adapter.
Then along came DisplayPort, an interface standard that offers digital video and audio connections between computers, monitors, and home theater equipment. You'll find a Mini DisplayPort connector on all of Apple's currently shipping computers. With these connectors and the appropriate adapter, you can easily deliver digital video (and, with some adapters, digital audio as well) from your Mac to your AV gear. I tested five of these adapters and here's what I found.
They all work.
Wait, before you click through to another page, it's important to understand that they don't all have the same capabilities. Yes, they all output good looking video, but of the five adapters, one supports only video out, two support video out as well as stereo audio out through a USB connector, one supports video out and stereo- and multi-channel audio out through an included Toslink cable connected to the Mac's Audio out port, and yet another outputs both video and stereo- and multi-channel audio through the DisplayPort connector on compatible Macs.
Adapters and capabilities
Specifically, some adapters, such as Dr. Bott's $29 Mini DisplayPort to HDMI Adapter II, are for making video-only connection. You have to provide your own audio cable and connect it to your AV gear to have sound play through that gear. As with the other adapters, to view the DisplayPort video, launch the Displays system preference and two windows appear—one for the Mac's display and another for the connected TV. Within the Mac's display window you can click Arrangement and then enable the Mirror Displays option to have the Mac's display and TV show the same image. Video-only is common with less expensive cables.
Monoprice's $37 Mini DisplayPort Male and USB Male Audio to HDMI Female Converting Adapter and Newer Technology's $50 Mini DisplayPort/USB Stereo to HDMI Adapter are two good examples of rectangular adapter boxes a little smaller than a deck of cards that bear a female HDMI connector on one end and a Mini DisplayPort and USB cable on the other. Plug the two cables into your Mac and string an HDMI cable (not included with any of the adapters I looked at) between the adapter box and your TV or AV receiver.
To configure audio for these two adapters so that it flow through the adapter to your connected gear, open the Sound system preference and select USB Sound Device in the Output tab. Note that the audio that plays is stereo only—these two devices don't play multi-channel audio.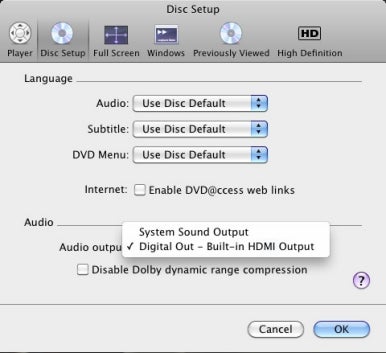 Adapters such as Monoprice's $49 Mini DisplayPort Male and USB Male/Toslink Audio to HDMI Female Converting Adapter add a Toslink digital audio cable to this configuration. Plug the cable into your Mac's Audio out port and multi-channel audio gets sent to your AV gear. When you plug in this Toslink cable, the Output tab of the Sound system preference reads Digital Out. It's up to you, at this point, to configure your Mac's applications to play multi-channel audio.
Finally, on compatible Macs, devices such as Moshi's $35 Mini DisplayPort to HDMI Adapter (with audio) can do it all—digital video and stereo- and multi-channel audio—through the single DisplayPort connection. Currently those compatible Macs include the latest iMacs, MacBook Pros, and the just-released MacBook. Not all cables support audio over the Mini DisplayPort connection, so make sure to check before buying an adapter if you have one of these newer Macs.
Which to get
These aren't the only DisplayPort to HDMI adapters available to you. StarTech.com offers its $29 Mini DisplayPort to HDMI adapter, which supports audio. Other World Computing sells NewerTech's $60 Mini DisplayPort w/5.1 Channel Digital Audio to HDMI Adapter. And there are surely others. Which adapter you choose depends on the Mac you own, the audio requirements you have, and the money you want to spend. If you have a compatible Mac and a multi-channel AV receiver with HDMI ins and outs, the Moshi or comparable adapter is the obvious choice. If you want multi-channel audio, your AV receiver includes a Toslink connector, but you don't have a Mac that outputs audio through the DisplayPort connector, the Toslink adapter such as one from Monoprice makes sense. If stereo audio will do the job, a USB adapter (also available from Monoprice) is the better choice based on its price. And if you're on a budget and interested only in DisplayPort video (meaning you'll manage the audio connection between the Mac and AV gear some other way), the Dr. Bott adapter or similar product will do the job.
Mini DisplayPort/USB Stereo to HDMI Adapter
Mini DisplayPort to HDMI Adapter II
Mini DisplayPort to HDMI Adapter (with audio)
Mini DisplayPort to HDMI (MDP2HDMI)
Mini DisplayPort Male and USB Male/Toslink Audio to HDMI Female Converting Adapter
Mini DisplayPort Male and USB Male Audio to HDMI Female Converting Adapter