Gameloft, one of the premier game developers for the iPhone OS platform, brings yet another three-dimensional action-adventure title to the iPhone with Iron Man 2. Based on the 2010 movie, Iron Man 2 is true to the film's story and features the official characters and cast from the movie.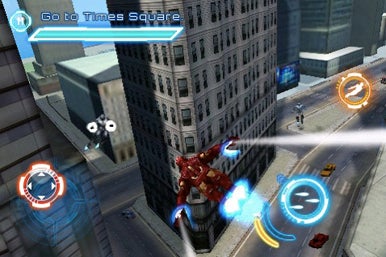 Although there is no tutorial to progress through, the first stage acts as a sort of guide for you to familiarize yourself with the controls. Gameloft clearly spent a lot of time on the controls as in-game navigation—whether it be walking, running, hovering, or flying—is effortlessly simple.
Iron Man 2 is composed of nine levels of flying around, crossing checkpoints, completing timed missions, defeating baddies, and figuring out puzzles. There are also a number of achievements that are waiting to be unlocked. I've read some complaints about the game not being lengthy enough to justify its price but as someone who's been stuck on the third level for the past week, I cannot decide if that's really the case.
The graphics of Iron Man 2 are excellent and easily on par with some of the higher-end 3D titles on the App Store. The menus are well laid-out and the text is easy to read. Although it is clearly not designed to be played in five-minute breaks, the game does resume from the last checkpoint you've reached when you quit and relaunch.
Given how amazing the experience of flying through the various locations in the game is, it was a little disappointing that there was no free roam mode. Battle-crazed villains or invisible walls are always there to keep you from exploring. The linear gameplay and short play time have frustrated some users, but I was more angered by the long load times between screens.
All said and done, however, Iron Man 2 remains faithful to the original material and, coupled with the graphics and the amazing gameplay, offers much bang for the buck. It's a slick adventure ride that is sure to keep you glued to your iPhone for hours.
[Aayush Arya is a contributor to Macworld.]