At a Glance
Expert's Rating
Pros
Rugged construction with slick looks
Good performance in low light
Large touchscreen works underwater
Cons
Touchscreen can be unresponsive
Menus are a bit confusing
Our Verdict
Sony's tough but fashionable DSC-TX5 offers excellent low-light shooting, but its touchscreen and menus are drawbacks.
Are you looking for a stylish camera or a rugged camera? Usually you have to pick one trait or the other, but the 10-megapixel Sony Cyber-shot DSC-TX5 offers both.
The DSC-TX5 looks just like many of the other slim, fashionable models in the Cyber-shot TX series, but this camera is built to withstand shocks, water, freezing, heat, and dust. In fact, I had to look twice to make sure I was holding the right camera before I dunked it into the pool. The DSC-TX5 comes in green, pink, red, black, and silver, and is priced at $330.
The camera is waterproof down to 10 feet below the surface, shockproof to falls of as much as 5 feet, and dustproof; it can withstand temperatures from 14 degrees to 104 degrees Fahrenheit. Beyond its stylish exterior, it also has features that make it a good choice for day-to-day use, including anti-motion-blur mode, Sony's revamped Intelligent Sweep Panorama mode, and a high-definition movie mode that records 720p MPEG-4 video at 30 frames per second.
The DSC-TX5 feels pretty sturdy—as a rugged camera should—and it has a shiny sliding cover to protect its 4X-optical-zoom Carl Zeiss lens (25mm wide-angle to 100mm telephoto). I found the lens cover a little hard to slide, especially in the water. You get a choice of storage formats: The camera takes SD/SDHC cards in addition to Sony's proprietary Memory Stick Pro Duo format, and it also provides 45MB of internal memory.
Aside from the slippery lens cover, the DSC-TX5 is fairly easy to use. The camera features a 3-inch touchscreen for controlling most of its functions, which seems like an odd choice for a camera partially designed to be used underwater, but surprisingly the DSC-TX5 seemed more responsive underwater than on dry land. On terra firma, I had to press on-screen icons several times before the screen would register my touch, but the screen reacted quickly when I used it underwater.
Though the controls are mostly on the touchscreen, the camera has a few hardware buttons—the power and shutter buttons, obviously, but also a zoom toggle and a play button. Loaded with its battery and a Memory Stick, the 10.2-megapixel DSC-TX5 weighs 5.1 ounces; its slim frame measures just 3.75 by 2.25 by 0.72 inches.
The DSC-TX5 takes decent photos, but its overall image quality isn't outstanding. In our labs' subjective imaging tests, the jury gave the DSC-TX5 high marks for exposure quality, but below-average scores for color accuracy, sharpness, and lack of distortion. As for video, the DSC-TX5 shot good-looking footage, but the on-board microphone was pretty weak. The DSC-TX5 received an overall imaging score of Fair.
In dark conditions, however, the camera performed well in my hands-on tests. The DSC-TX5 boasts an Exmor R CMOS sensor, which Sony says is optimized for low-light shooting. The camera certainly did an impressive job of taking photos in low-light situations, such as this picture of a palm tree in the dark (trust me, I could barely see the leaves of the tree when I was taking the picture).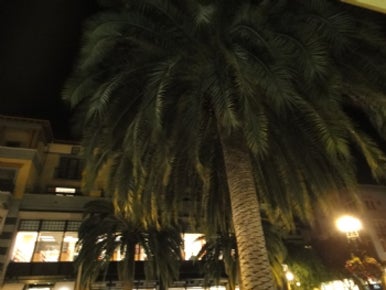 The camera has very little shutter lag and lag time in general, but the touchscreen's frequent lack of responsiveness cancels out the quick shutter on occasion. ISO control ranges from 125 to 3200, and images have surprisingly little noise unless you boost the ISO beyond 800. In Program Auto mode, you can also control the white balance, flash, EV, burst mode, self-timer, focus, metering mode, and face detection, as well as the smile-triggered shutter mode.
The menus on the DSC-TX5 are a bit confusing and unnecessarily bloated, as though Sony just went crazy with the possibilities that a touchscreen affords. Portions of the design are useful; for example, users can customize which four icons (white balance, flash, or the like) show on the side menu. Meanwhile, the rest of the menu options reside in a full-screen menu that you drag open from the left side of the display.
I would have preferred an option in which all of the icons are visible in the left menu with a simple scroll, as the slide-open menu can get annoying quickly. The menus also have a lot of icons that you can drag around and reorder—pretty unnecessary, if you ask me.
Deleting images is tricky with the touchscreen, too. In the camera's "delete multiple images" option, it's too easy to accidentally select images you don't want to delete; each time you tap the screen to scroll through images, you frequently end up selecting one for deletion. To avoid that problem, you can instead use on-screen arrows to scroll through the pictures, but the arrows don't register well (lots of frustrating tapping ensues).
Macworld's buying advice
Though the touchscreen is sometimes frustrating, the Sony Cyber-shot DSC-TX5 is a decent entry into the rugged-camera market that looks stylish enough for everyday use. I would have appreciated at least one more hardware button for quickly cycling through shooting styles, because the last thing you want to do when scuba diving is to fool around with confusing touchscreen menus. That said, it's certainly the most day-to-day-friendly rugged camera we've seen, and its features and its low-light shots are impressive.