You're out of bread. You're also out of cat food, and you need to stop by the bank to pay off your ever-encroaching student loans. The dilemma? None of the places you need to go to accomplish your to-do list are anywhere near each other, and you just don't quite know how to get from one to another in an efficient way. In walks JinDianZi with It's On My Way, a $3 app developed to solve the problem of mapping a multiple-destination trip.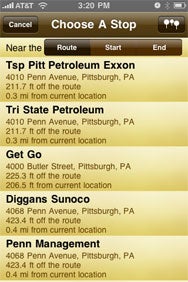 It's On My Way works by using the same information you would get from the Google Maps application, such as GPS integration and the map view. But the app adds a very attractive layer on top of that, which lets you specify more than one stop for your journey. When starting off, you first designate if this is a one-way or round trip. For instance, if you're going to a restaurant but need to pick up a bottle of wine along the way, you would specify one-way with the restaurant as your destination; otherwise the "Round Trip" will expect you to land back at your starting location.
To find your starting or end point, you can search as you would with Google, using a generic term to describe the location. You can also enter in the address yourself or pick one from your contacts. After the initial trip is determined, It's On My Way will ask you for additional points, providing you with detailed information as to how far off your current route the points are. If highways aren't your thing, the settings panel lets you favor side-roads and you can also select walking instead of driving.
Once everything is planned out, you'll see a map with points as well as a list of directions which can be e-mailed from within the app or just viewed on screen. And that's one of the biggest drawbacks to It's On My Way—the directions and the map cannot be juxtaposed, as you would see in the Google maps application. For me, seeing directions right above the map and being able to press an arrow to see my next turn is key for making a mapping application useful, especially if you're entirely unfamiliar with the area you'll traveling through. For walking, the approach that It's On My Way gives is absolutely fine, but for use in transit, it comes to be one small step better than the days when we would print out directions from Google Maps and hold them on the steering wheel.
As a mapping alternative to Google Maps to help you plan a route, It's On My Way does a superb job of sorting out the most efficient or convenient way possible. If it weren't for the inability to put the map and directions on the same screen, this application could give Google a run for its money when it comes to mapping on the go. I say if you're walking, or planning your route at the kitchen table, It's On My Way is just the ticket.
[Rob de la Cretaz is a full-time polymath and a proud resident of Pittsburgh.]