Justin Long, the actor behind the endearing-turned-belittling Mac character in Apple's long-running "Get a Mac" ads, wasn't kidding when he foretold the end of the campaign. Apple on Friday unveiled its new, less imperative marketing approach: Why you'll love a Mac.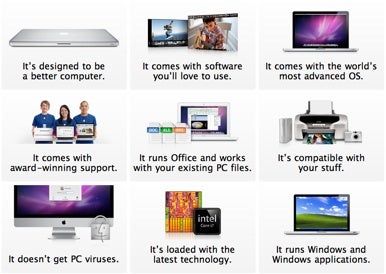 This time around, Apple has apparently ditched the humor, as there are no chuckle-worthy Web or TV video ads—at least not yet. Apple's new campaign, which the old Get a Mac link now redirects to, is a testament to Apple's emphasis on brevity and clarity. A series of straightforward, single-sentence pitches are organized in a grid, such as "it's designed to be a better computer," and "it comes with software you'll love to use." Mouse over each one and a concise blurb will appear, along with a link to expand on the topic if you want to know more.
Apple is still banging the same marketing drums, though. In addition to better design and lovable software, Apple boasts the Mac's freedom from viruses, compatibility with "your stuff," and ability to run Windows and Windows applications should that steady stream of new switchers need a lifeline.
We'll have to wait and see if Apple's new approach will translate to a similar attitude in video ads on the Web and TV. The "Get a Mac" bit got pretty long in the tooth, so consumers will almost surely welcome anything new (well, to the extent that one can "welcome" a refreshed ad campaign). Developers who were concerned that the Mac is getting left behind in favor of the iPad and iPhone might also find some relief in this rejuvenated attention from Apple.