The Guardian Eyewitness is a beautifully simple photography-centric app from the popular UK newspaper The Guardian. The app feels highly reminiscent of the popular and inspiring large-scale photo blog The Big Picture—and that's a good thing.
The app showcases 100 recent photographs from professional photographers, ranging from hard news imagery ("A gas-masked demonstrator throws projectiles at riot police near the Greek parliament") to human-interest pictures ("A Portuguese man o' war and its escort of fish"). Each image looks unsurprisingly gorgeous, vividly displayed full-screen on the iPad.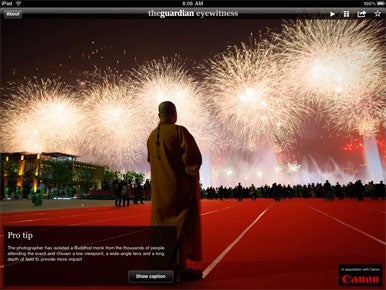 As you browse, you can flip between the image's caption, and a so-called "pro tip" that provides an insight or two into how the photographer captured the image. I'm not sure just how "pro" these tips really are ("The photographer has not used flash for this night shot, instead relying on the available backlighting to produce long silhouettes"), but they're certainly insightful to an enthusiastic amateur like me.
Browsing photos in Eyewitness is simple; you can swipe, play a slideshow, or view a list of thumbnails to find a specific image. The app also makes it a snap to share photos via e-mail, Twitter, or Facebook. There's no facility to save one of these copyrighted images to your iPad—unless you know how to take a screenshot.
Lovers of fine photography will be suitably awed by the incredible shots that characterize The Guardian Eyewitness. The app's own subtle interface wisely stands back, letting the photographs themselves steal the show.
[ Lex Friedman ought to be in pictures.]