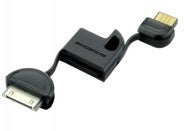 It's not uncommon for people to take their Apple Dock Connector to USB cables to work with them, or anywhere else where they might spend a significant amount of time. While this is great for keeping your iPhone charged, it also means you have one more cable cluttering up your precious desk space. Furthermore, cables are not the most travel-friendly of accessories, with their tendencies to tangle and get caught on things.
The Scosche flipsync solves this problem by taking the standard Apple USB 2.0 Charge and Sync Cable and miniaturizing it into a keychain about the size of a car alarm remote control. The USB and Dock Connector flip out of the plastic enclosure when they are needed, and nicely fold away when you're finished using them.
Not only should the Flipsync reduce desk clutter, but with an Apple USB to Dock Connector on your key chain, you'll be able to charge your iPhone or iPod any time you have access to a USB port. And with a $20 price tag, it's only a dollar more than the standard Apple Dock Connector to USB Cable.