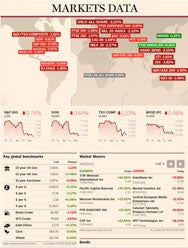 The Financial Times has made its way to the iPad with the newly released Financial Times iPad Edition app. Optimized for Apple's latest mobile device, the app provides instant access to the financial newspaper's award-winning global news, video, comment and analysis. From now until July 31, users get free, unrestricted access to the publication.
The FT app features a lovely interface and lets you download the entire iPad edition for offline reading, which is a big plus for subway commuters who lack 3G access while underground. You can also customize the order of the pages to suit your preferences as well as view FT's video coverage.
For those interested in the financial side of the publication, you can use the app to access an interactive markets data hub that features global and regional macromaps, market gainers and losers, currencies, commodities and bonds. You can also view stock performance summaries with detailed business profile information, estimates and targeted news.
As mentioned, access to the content is sponsored for free until the end of July, though you do have to register at FT.com. After July 3, you'll need a paid subscription to gain unlimited access to the service.