Like many Macworld staffers, I'm active on Twitter. For me, it's a great way to communicate with friends, colleagues, and readers. And like many Twitter users, I prefer a dedicated Twitter client to the Twitter Website. I've been a big fan of Twitterrific for Mac for its efficient use of space and "get the basics right" approach, but after three years using Twitter, I've personally outgrown the capabilities of the current version of Twitterrific.
Over the past few months, I've tried every Mac Twitter client I could find—around 20 in all—and the one I've settled on, and grown to appreciate more and more, is YoruFukurou (apparently Japanese for "night owl"). YoruFukurou has all the capabilities you'd expect of a full-featured Twitter client, save one (more on that below). But it's the program's no-nonsense interface and unique features that hooked me.
Like most Twitter clients for Mac, messages (tweets) appear in a vertical list—the timeline. Each message includes the sender's avatar (image); the time the message was sent; buttons to reply to the message or to mark the message as a favorite; and a number of subtle-but-useful status indicators, including read/unread status. (You can opt for a collapsed view that displays only a single line of each message; selecting a message expands it.) A useful option automatically displays the full URLs behind shortened-for-Twitter versions.
But right-click on a message, and you get a slew of additional options, including reply to all (if the original message was already a reply), send direct message, retweet, and retweet with comment. You can copy the message content, the sender's username, the Twitter link to the message, or, my favorite, the message and the Twitter link together—useful if I want to quote a tweet in, say, a Macworld article. You can also perform a number of Web-related options, including opening any links in your browser.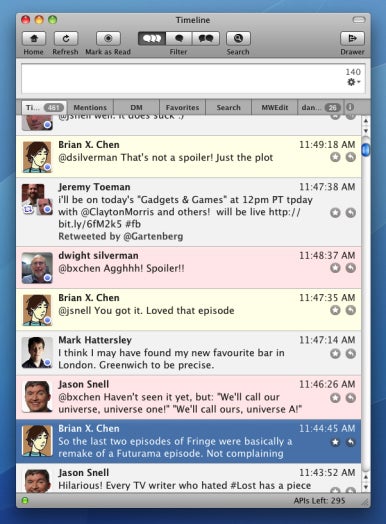 A few of my favorite features when viewing the timeline are highlighting and filters. Click on a message from a particular person, and all other messages from that person are instantly highlighted, making it easy to find them when scrolling through your message list. If the selected message is part of a conversation—a series of back-and-forth replies—all the messages in that conversation are similarly highlighted, though in different colors.
Alternatively, select a message and the Selected User filter hides all messages but those posted by the selected message's author; the Show Conversation filter shows only messages associated (by reply actions) with that message. There's also a timeline search that lets you filter your message list by keyword or username.
Another of my favorite features is YoruFukurou's tabs. The first is the main timeline, and to the right are tabs for mentions (messages including @yourusername), direct messages, and favorites, making it easy to quickly view all the standard categories of Twitter messages. There's also a Search tab that lets you search all of Twitter.
Unfortunately you can't save a search directly from the Search tab, but what you can do is even better: create additional tabs that can include saved searches, lists of messages from particular users, or lists of messages filtered by particular rules. Filters can include usernames, keywords, and even regular expressions. YoruFukurou also provides separate Blocking Rules that let you block, within YoruFukurou, messages that meet any of the same types of criteria.
I also like YoruFukurou's little conveniences. For example, if a message includes the URL to an image hosted on one of the popular image-hosting sites, clicking the URL displays the image right in YoruFukurou, saving you from a trip to your browser. Similarly, click a user's avatar, and a drawer slides out from the side of the YoruFukurou window to display the user's Twitter profile and most-recent tweet; a pop-up menu lets you reply, send a direct message, determine if you're following the person and vice versa, or block the person (using Twitter's official block feature). When typing messages, YoruFukurou auto-completes usernames and hashtags. And as someone who prefers, whenever possible, to use the keyboard rather than a mouse or trackpad, I appreciate that nearly all of YoruFukurou's features are accessible using the keyboard.
YoruFukurou includes scores of additional features, provides myriad alert and notification options, and lets you tweak the program's interface in many ways. In fact, while, as a tinkerer, I love having all these options, for some people they might seem overwhelming. My advice is to use the program with the default settings for a bit, note what bugs you, and then start exploring the various menus and preferences—you'll likely find you can tweak those things you don't like.
As for missing features, the biggest limitation of YoruFukurou—and it is indeed a big one for many Twitter users—is that the program supports only a single account. If you need to manage multiple Twitter accounts, this is likely a deal-killer. Personally, I like YoruFukurou so much that I use it for my main account and keep another app handy when I occasionally need to post from, say, the @macworld or @macgems accounts.
YoruFukurou is available in separate versions for Leopard (OS X 10.5) and Snow Leopard (OS X 10.6). I tested the Snow Leopard version, currently at 2.13.
Want to stay up to date with the latest Gems? Sign up for the Mac Gems newsletter for a weekly e-mail summary of Gems reviews sent directly to your Inbox.