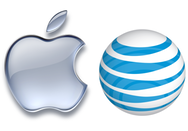 AT&T on Friday made some significant changes to its early termination fee (ETF) policies that affect all of its contractual customers. The new prices—raised for some phones, lowered for others—go into effect for new and upgrading customers on June 1, 2010.
In a note to customers, AT&T says that anyone who buys "more advanced, higher end devices, including netbooks and smartphones" must now agree to an ETF of $325, nearly double the current $175 fee. With the iPhone counted among the smartphones that AT&T services, it's in line for this ETF increase. Note, however, that AT&T does not specify just smartphones or netbooks—it leaves some classification wiggle room, presumably for future device types that may straddle the fence. Per a recent policy change, the new $325 ETF will follow current rules and be lowered by $10 every month for the remainder of the contact; it disappears entirely after the two-year term is satisfied.
It is worth noting that AT&T won't be the only carrier with higher smartphone ETFs. Last November, Verizon raised its "advanced devices" ETF to $350. The ETF for a Nexus One phone on T-Mobile was originally $550—more than the cost of the device—until Google dropped its portion of the fees from $350 to $150.
Come June 1, new and upgrading customers who buy "basic and quick messaging phones" on AT&T will be greeted with a $150 ETF, down $25 from the $175 fee that used to cover smartphones, netbooks, and basic phones alike. Like its big brother, the fee for "feature phones" will fall by $4 every month and disappear once the two-year commitment is over.
Naturally, AT&T's move to raise its smartphone ETF by a whopping $150 is sparking speculation about Apple's plans for the next iPhone, expected to be unveiled at next month's Worldwide Developer Conference. Current and potential iPhone owners have been itching for the day that Apple ends its exclusive arrangement with AT&T, given the carrier's reputation for poor service. While Apple and AT&T did indeed strike a five-year exclusivity deal in 2007, no one knows if that contract has changed since then, as Apple rolled out subsequent iPhone updates. Seen in that light, one could argue that this ETF hike from AT&T might be a pre-emptive strike to keep current customers from jumping to other carriers—assuming other carriers are in the iPhone's future.