Editor's note: The following review is part of Macworld's GemFest 2010 series. Every day from mid July until the end of August, the Macworld staff will use the Mac Gems blog to briefly cover a favorite free or low-cost program. Visit the Mac Gems homepage for a list of past Mac Gems.
Chances are you have a lot of stuff you'd like to replace in the wake of a catastrophe. But can you document everything you own? More importantly, is your insurance coverage adequate? Binary Formations' Home Inventory 2.1 is designed to address both questions.
Like any product in its class, Home Inventory offers a place to list your possessions. Along with the typical bits of information like make, model and serial number, you can set up custom fields for information relevant to, say, your egg beater collection.
Each item in your inventory can have multiple photos attached to its record, useful when you'd like to capture a close-up of the serial number or thoroughly document your cookie jars. For the small stuff, Home Inventory can snap photos using an iSight camera. Images that are already on your computer can be dropped into the product en massse to be associated with their corresponding inventory records via drag and drop. Date-stamped notes, receipts, files (such as a PDF user manual) and warranty information can also be kept with each item in your list.
The Policies section of Home Inventory is for documenting insurance coverage. The typical property insurance policy's features are supported, like lower coverage for jewelry and art. You can also record your auto, life, and health insurance policies in this section.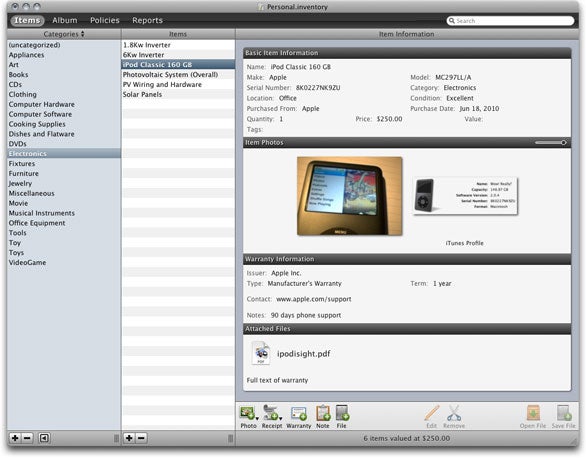 Home Inventory's report system has six built-in reports and a designer where you can create custom reports. A coverage analysis report compares your inventory to your policies to help you identify possible gaps and the handy moving list report can help you ensure your belongings make it to the new house.
A comprehensive user guide and automatic backup to your Mobile Me iDisk round out this excellent product.
Home Inventory 2.1 eases the chore of documenting a house full of possessions and the time you spend with it could land you a better settlement should you need to file a claim.
Want to stay up-to-date with the latest Gems? Sign up for the Mac Gems newsletter for a weekly e-mail summary of Gems reviews sent directly to your inbox. You can also follow MacGems on Twitter.
Our 186-page Mac Gems Superguide is a veritable greatest hits of Mac Gems. It's available as a PDF download, PDF on CD-ROM, or as a printed book. Learn more about the Mac Gems Superguide.
[Stuart Gripman is a columnist for Advisor Basics of FileMaker Pro magazine and founder of Crooked Arm Consulting.]