At a Glance
Expert's Rating
Our Verdict
Editor's note: The following review is part of Macworld's GemFest 2010 series. Every day from mid July until the end of August, the Macworld staff will use the Mac Gems blog to briefly cover a favorite free or low-cost program. Visit the Mac Gems homepage for a list of past Mac Gems.
Ideal for weddings, get-togethers, or just about any reason to have a party, GuestReel is one of those square-peg-in-a-square-hole programs. GuestReel runs in kiosk mode where anyone at the party or event can walk up to the Mac, type in their name, city, and a text message. Then, they can record a video greeting using either your Mac's built-in iSight camera or a video camera connected over FireWire.
The application works exceptionally well. A nifty countdown appears before GuestReel records the video greeting. Shy guests or those who don't like to be on video can click a button to only leave the text message before the video starts recording.
For each video recording, GuestReel saves the message with a thumbnail picture preview. You can then press spacebar on any greeting to play the video, which can also be viewed in full-screen.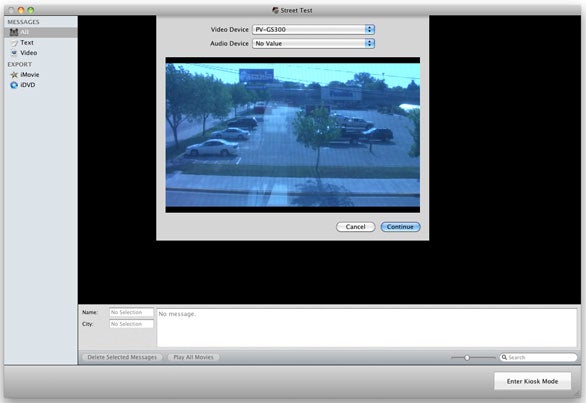 GuestReel groups messages by video recording or text greeting. You can then export all of the messages as an iMovie project (for generating a QuickTime movie of all greetings) or export the clips directly into iDVD (to make a burned DVD). Or, you could figure out a way to post the greetings online for your guest to view (such a posting feature isn't found in GuestReel).
The interface for GuestReel is just a bit clunky without much flair to the kiosk screen, but it's functional enough. In kiosk mode, there is a tiny close button on the lower left that most people will not notice, which keeps the partiers from closing down the app.
Overall, GuestReel is worth the price because it does exactly what you need for capturing the well-wishes and goofy remarks of anyone who attends your party of event.
Want to stay up-to-date with the latest Gems? Sign up for the Mac Gems newsletter for a weekly e-mail summary of Gems reviews sent directly to your inbox. You can also follow MacGems on Twitter.
Our 186-page Mac Gems Superguide is a veritable greatest hits of Mac Gems. It's available as a PDF download, PDF on CD-ROM, or as a printed book. Learn more about the Mac Gems Superguide.
[John Brandon is a 20-year veteran Mac user who used to run an all-Mac graphics department.]