Editor's note: The following review is part of Macworld's GemFest 2010 series. Every day from mid July until the end of August, the Macworld staff will use the Mac Gems blog to briefly cover a favorite free or low-cost program. Visit the Mac Gems homepage for a list of past Mac Gems.
Keeping track of your passwords across browsers and computers can be time consuming. Some solutions will sync passwords across computers but not browsers (such as using Safari and syncing using MobileMe). LastPass attempts to solve this dilemma by managing all your login data, competing with other solutions such as 1Password. LastPass has support for a wide variety of platforms (Mac, Windows, Linux) and browsers (Safari, Firefox, Chrome, Internet Explorer), and even support for mobile platforms (iPhone, Android, and more).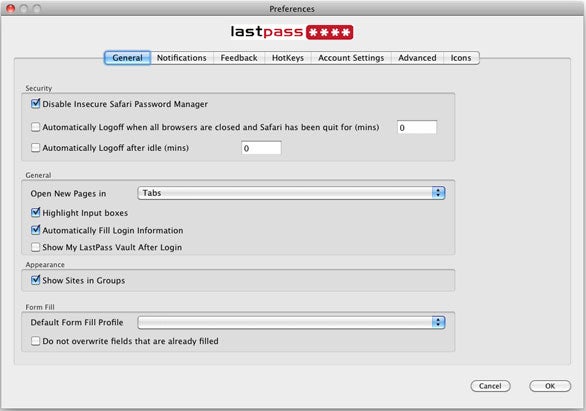 Once installed, LastPass will offer to save your login information when logging into Websites and offer to fill in those same forms when you return. Logins can be groups, set as AutoLogin, or require master password reprompt, which forces you to re-authenticate for specific logins.
LastPass can also be accessed through its toolbar icon. This menu gives you access to everything you can do with LastPass in one location. Other features that are available include identities, secure notes, form filling, preferences, and other tools.
The identities feature is for creating controlled views of your information (for distinct Home and Work profiles to keep that data separate). The secure notes bits of text that are stored with your password data. LastPass can fill forms more fully than Safari, such as credit card numbers (for shopping), and supports additional identities. Other tools include a secure password generator and a session tracker.

A mandatory account with them is necessary to run the software. This account is used to store all the data on their servers, but in an already encrypted form so they have no access to your data. Your data is available everywhere you go with internet access.
LastPass is free. A Premium service ($12 per year) carries added features like mobile phone applications, support for secondary hardware keys, and no ads.
Want to stay up-to-date with the latest Gems? Sign up for the Mac Gems newsletter for a weekly e-mail summary of Gems reviews sent directly to your inbox. You can also follow MacGems on Twitter.
Our 186-page Mac Gems Superguide is a veritable greatest hits of Mac Gems. It's available as a PDF download, PDF on CD-ROM, or as a printed book. Learn more about the Mac Gems Superguide.