Editor's note: The following review is part of Macworld's GemFest 2010 series. Every day from mid July through August, the Macworld staff will use the Mac Gems blog to briefly cover a favorite free or low-cost program. Visit the Mac Gems homepage for a list of past Mac Gems.
You may think that since you've got home insurance, you're covered in case of theft, fire, or other disaster. But unless you've got a comprehensive record of your home's contents, filing an insurance claim will be an exercise in frustration. Compartments aims to make such an inventory painless—or at least a whole lot easier.
Compartments has two basic types of data: locations and items. Items are specific things you want to catalog. Locations are, as you might guess, locations in your home or on your property where items reside. Click New Location to create a new location and assign it a type: general, room, dresser, automobile, box, building, computer, and so on. While types and locations might seem to overlap, location types give you an extra layer of classification, which can be useful if, for example, a room is too broad a category for your belongings.
Once you've created a location, it's available when creating a new item record. Click New Item, and you can enter a slew of important information about the item: its name, type (based on a list of common categories), location, date acquired, warranty length, price, make and model, and serial number. You can also use the Notes field to store any additional information you want to track, and you can assign tags—additional categories or labels, useful for searches—to the item, attach a file (such as a scanned or e-mail receipt) to the record, and add an image of the item. For this last bit of information, you can either drag an existing digital photo into the record or, if your computer has a camera, take a photo of the item right then and there; you can even crop your photo from within Compartments.
A great feature is the Quick Add box. If you've got a list of items residing in the same location, just click the Quick Add button, choose the location, and then type or paste all the items at once, one item per line—Compartments will automatically create a new record for each item. Unfortunately, you can't set other bits of data for these new records from within the Quick Add window. There is a Quick Apply feature that lets you select multiple existing records and then apply a specific kind or specific tags, or move all those items to a particular location, but it would be useful if you could easily, say, assign the same purchase date to multiple items.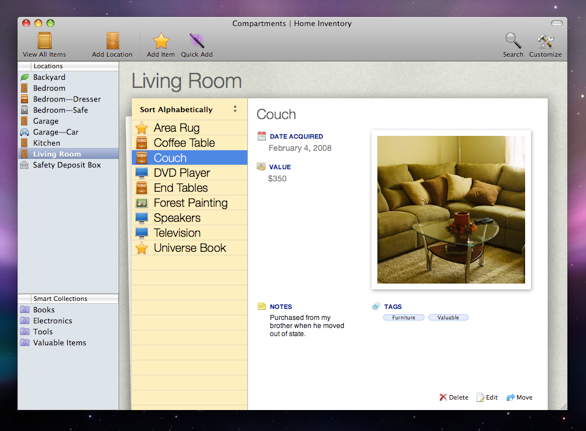 Once you've entered item data, you can view your items either all at once or by location, sorted alphabetically, by type, or (in the all-items view) by location. Compartments also lets you create smart collections, which, similar to smart folders in Mail and smart playlists in iTunes, are live-updating groups of items based on name, tags, or kind. And, of course, you can search search your database based on name, tags, or kind—Compartments even lets you create a smart collection based on the results of a search.
New in the latest version of Compartments are tools for tracking product warranties. Based on the warranty-length data you provide when you create an item record, Compartments displays the date that item's warranty expires. But just as useful is the WarrantyGuard view, which is essentially a built-in smart collection that lets you quickly see all items with warranties that expire within the next month.
Finally, Compartments's Reports feature produces by-location inventory reports that include a detailed list of all items in each location, along with summaries of the number and total value of items in each location.
Compartments has a few limitations I discovered once I started doing some serious inventorying. The one I noticed immediately was an apparent inability to add new item and location types. For example, closet isn't an available location type, and clothing isn't an available item type, but there's no way to add either. I was also frustrated that I couldn't leave the Date Acquired field blank when cataloging existing items for which I couldn't even venture a guess as to the purchase date. And it would be great if, like Warranty Hero, Compartments could integrate with iCal to remind you when an item's warranty is about to expire.
Want to stay up to date with the latest Gems? Sign up for the Mac Gems newsletter for a weekly e-mail summary of Gems reviews sent directly to your Inbox.
Our 186-page Mac Gems Superguide is a veritable greatest hits of Mac Gems. It's available as a PDF download, PDF on CD-ROM, or as a printed book. Learn more about the Mac Gems Superguide.
[Dan Frakes is a Macworld senior editor.]