Gameloft's Modern Combat: Sandstorm owes more than just a name to the mega-title Modern Warfare. Just like the popular console title, you play as a US Marine in an unnamed Middle Eastern country in the throws of war, the edges of the screen feather red when you are shot at, your squad mates always expect YOU to do everything, and the graphics are comparatively gorgeous for the platform. Unfortunately, the plot and gameplay seem like something you might expect from a junior varsity version of Infinity Ward.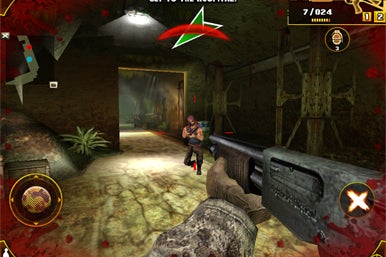 There are three types of missions in the campaign: those that have you and your squad scurrying from checkpoint to checkpoint, those that task you with protecting your base, and finally those rare missions where you man a turret on a 4×4. Manning the turret is the most forgiving and subsequently the most fun element of the game.
First-person shooters aren't well suited for touch screens; controlling movement and aiming in fast-paced situations can be tricky and awful feel clunky. MC:S adds no significant improvements to rectify these difficulties. However, by the game's end, players will barge through levels with significantly less troubles than earlier levels, which can likely be attributed more to muscle memory than effective controls.
Modern Combat aims for all the grit of a war game without ever getting its hands dirty. The game has no swearing and a cast of characters about as ferocious as a Lisa Frank fuzzy poster. Your captain barks "knuckleheads" after every command, and in one scene a squad-mate declares an explosion "hella cool." The attempt to take itself so seriously, without any legitimate toughness actually adds a bit of unexpected enjoyment to the haphazard and ludicrous plot.
Like most first person shooters, MC:S utilizes a checkpoint system as you progress through each level. However, Sandstorm's system is entirely lackluster; dying in certain sections brings you all the way to the beginning of the level or spots dreadfully far back. This can get quite upsetting, especially during harder stages in which you can expect to die a few times.
MC:S also offers a subpar multiplayer mode that's only saving grace is its ease of use. You can hop into a game almost instantly and begin fragging away at live opponents in a matter of seconds. However, here the control issues reappear. It's just impossible to effectively handle certain guns, like sniper rifles. Sandstorm offers players eight weapons to choose from—and as any online gamers worth their salt can tell you— two are vastly superior to the rest.
The game looks great, the controls passable for an FPS on a mobile device, but after an initial playthrough gamers probably won't embark on a second tour.
[Nicholas Vargus is a frequent contributor to Macworld.]