Editor's note: The following review is part of Macworld's GemFest 2010 series. Every day from mid July through August, the Macworld staff will use the Mac Gems blog to briefly cover a favorite free or low-cost program. Visit the Mac Gems homepage for a list of past Mac Gems.
AddressBookSync uses a clean interface and simple procedures to help coordinate the people in your Mac OS X Address Book with your Facebook friends.
Upon authorizing AddressBookSync to access your Facebook account, the program presents you with a list of all the people in your address book who are also your Facebook friends. You can choose which ones to sync to your Address Book; Facebook friends who aren't in your Address Book can be added with a click. You can also choose what Facebook information you want to sync for each of your friends—profile picture, birthday, current location, and profile URL. The sync takes seconds if you skip the customization of information for each friend. If you want to take the time to pick and choose what info you want to sync to each Address Book entry, it takes a little more time and effort. Further customization in the form of cropping the profile pictures is also possible.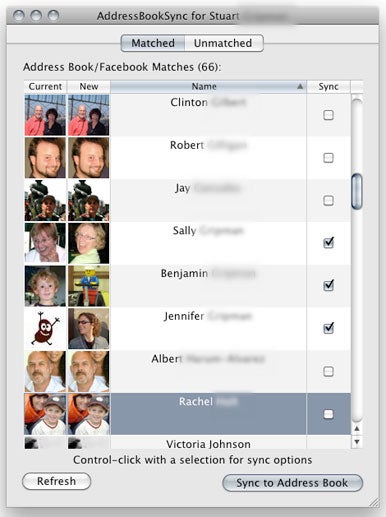 If, heaven forbid, you are forced to unfriend someone or are ruthlessly unfriended yourself, it's a simple matter of a few clicks to unsync the unwanted ex-friend.
It won't change your life to have your friends' profile pictures in your Address Book, but it's a nice enhancement to your Address Book entries.
Want to stay up-to-date with the latest Gems? Sign up for the Mac Gems newsletter for a weekly e-mail summary of Gems reviews sent directly to your inbox.
Our 186-page Mac Gems Superguide is a veritable greatest hits of Mac Gems. It's available as a PDF download, PDF on CD-ROM, or as a printed book. Learn more about the Mac Gems Superguide.
[Abbie Gripman is a journalist who lives and works in Flagstaff, Ariz.]