Editor's note: The following review is part of Macworld's GemFest 2010 series. Every day from mid July until the end of August, the Macworld staff will use the Mac Gems blog to briefly cover a favorite free or low-cost program. Visit the Mac Gems homepage for a list of past Mac Gems.
If you buy what Nick Carr is selling in his book The Shallows or his Atlantic article piece called Is Google Making Us Stupid then you may want to skip this review. Cruz is a Web browser designed for the ADHD crowd, especially if your ADHD tends to all things socially networkable.
Cruz is three Web browsers in one: A regular, run-of-the-mill browser sandwiched between two smaller browser windows that show sites you're connecting to as mobile browsers. The end result is that you can browse the Internet while still keeping tabs on your Facebook, Twitter, or other mobile-enabled accounts all at the same time.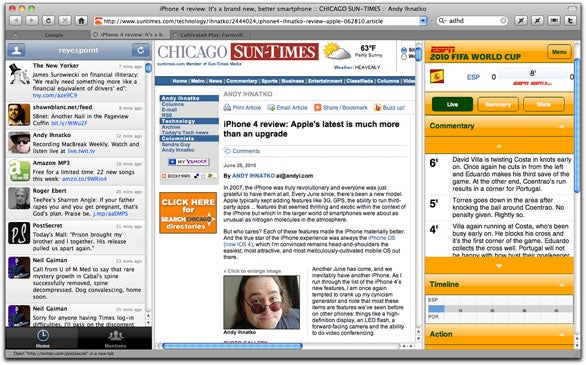 As a browser Cruz worked as you'd expect any good browser to work, which includes options for tabbed browsing. But I did have some issues with streaming video in the mobile-sized panes that I had no problem streaming on my iPhone. Also, on my 13-inch MacBook Pro I found Cruz's three paned browsing experience to be… well… a pain. With two mobile panes sized at iPhone widths, the middle browser, the one I was really surfing the Web with, was too small to be useful.
Overall (and on a larger screen), Cruz offers a unique blend of social networking and browsing all in a single application, giving you the freedom to keep tabs on your social world a while you're Cruzing the Web.
Want to stay up-to-date with the latest Gems? Sign up for the Mac Gems newsletter for a weekly e-mail summary of Gems reviews sent directly to your inbox. You can also follow MacGems on Twitter.
Our 186-page Mac Gems Superguide is a veritable greatest hits of Mac Gems. It's available as a PDF download, PDF on CD-ROM, or as a printed book. Learn more about the Mac Gems Superguide.
[Jeffery Battersby is an IT Consultant, Apple Trainer, (very) smalltime actor, and regular contributor to Macworld. He writes about Macs and more at his blog.]