Editor's note: The following review is part of Macworld's GemFest 2010 series. Every day from mid July through August, the Macworld staff will use the Mac Gems blog to briefly cover a favorite free or low-cost program.
Vitamin-R is an unusual application that works on the assumption (true in my case) that procrastination is really nothing more than the combination of vague objectives and limited focus. You can get more stuff done if you define specific, small goals that have a dedicated, specific amount of distraction-free time for completion.
To start with Vitamin-R you define what you want to do with a specific slice of time (i.e., "Write a review of Vitamin-R"), then set up the amount of time within which you want to perform the task. You also have the option of removing potential distractions by closing applications like Mail and Safari during that designated time period, although it's still possible to open the programs while you're working on your task. Then you get to work.
During the working process Vitamin-R's menu item displays a small timer, and at several intervals throughout the process warns you (either with the sound of a ticking clock or a voice stating how much time you have left) that the end of the task is near. I found Vitamin-R's audible warnings to be strangely comforting, and almost a challenge to stay focused and finish the task. When time runs out you have the option of rating your focus for the current session, information that gets saved in a personal productivity log. You can also either stopping or continuing the task.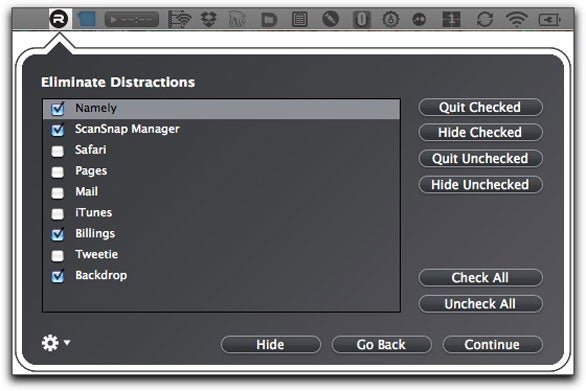 Vitamin-R offers other features as well, including a scratch pad for getting new ideas out of the way without getting off task and a separate pad for keeping ideas on the current task.
Overall I found Vitamin-R to be one of the few get-things-done applications that actually works for me—in my book, that's a huge task accomplished.
[Jeffery Battersby is an IT Consultant, Apple Trainer, (very) smalltime actor, and regular contributor to Macworld. He writes about Macs and more at his blog.]