Editor's note: The following review is part of Macworld's GemFest 2010 series. Every day from mid July through August, the Macworld staff will use the Mac Gems blog to briefly cover a favorite free or low-cost program. Visit the Mac Gems homepage for a list of past Mac Gems.
Raskin, named after the late user interface visionary, Jef Raskin, is a tool to compliment the Finder and simplify the way you interact with the files on your hard drive.
On first launch, Raskin scans your home folder to determine the files and folders you've used most recently. It then presents them in a "flattened" manner that allows you to zoom in and out of your files and folders without opening any windows. Instead Raskin is one large "surface" with columns called Places that represent frequently used folders on your hard drive. The leftmost place is always your Applications folder. If a given application is currently running, Raskin presents a thumbnail image of each window the application has open. Double click a thumbnail to bring that window to the front.
All other Places represent folders. Rather than showing just icons for the various files, Raskin shows a small box with the icon, file name, and some metadata like file size, creation date, and modification date. When available, a file's QuickLook preview is presented in the box too. Move, rename, or label a file in Raskin and your changes will be reflected the Finder immediately.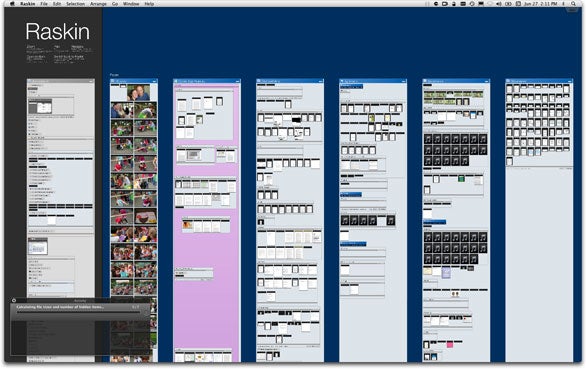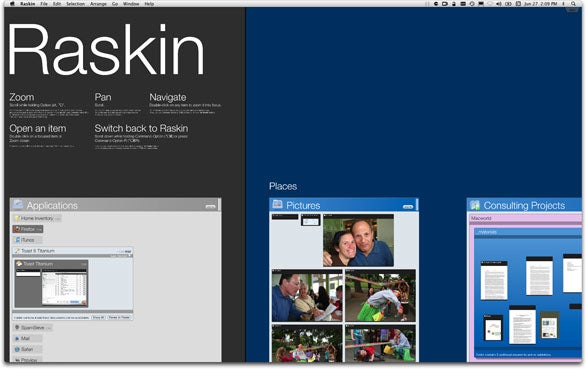 Finding your way around is like navigating a large map. It requires a great deal of zooming and panning. Touchpad gestures are the easiest way, but Raskin also offers scroll wheel, and point and click methods to get around. Operation was smooth, even on a modestly equipped MacBook Air, but the product is still a work in progress and could stand some refinement.
Even so, if you're a visual thinker, an interface geek, or just can't seem to get the hang of hierarchical file systems (and that describes a lot of computer users), Raskin is well worth a try.
Want to stay up-to-date with the latest Gems? Sign up for the Mac Gems newsletter for a weekly e-mail summary of Gems reviews sent directly to your inbox. You can also follow MacGems on Twitter.
Our 186-page Mac Gems Superguide is a veritable greatest hits of Mac Gems. It's available as a PDF download, PDF on CD-ROM, or as a printed book. Learn more about the Mac Gems Superguide.
[Stuart Gripman is a columnist for Advisor Basics of FileMaker Pro magazine and founder of Crooked Arm Consulting.]