Editor's note: The following review is part of Macworld's GemFest 2010 series. Every day from mid July through August, the Macworld staff will use the Mac Gems blog to briefly cover a favorite free or low-cost program. Visit the Mac Gems homepage for a list of past Mac Gems.
Yep is the document-management equivalent of iTunes. Essentially a doc viewer, Yep shows you a large window with your documents and you can quickly see a document thumbnail preview. The purpose is in organizing your documents apart from the Mac's folder management options.
Yep lets you view and tag Office, iWork, and PDF files. For example, once you add your documents (this works best using drag-and-drop) you can apply a label such as "work docs" or "accounting" and then use Yep to search for only those document types later on. A brilliant idea, Yep worked reliably and fast in testing hundreds of documents of all shapes and sizes and does save time.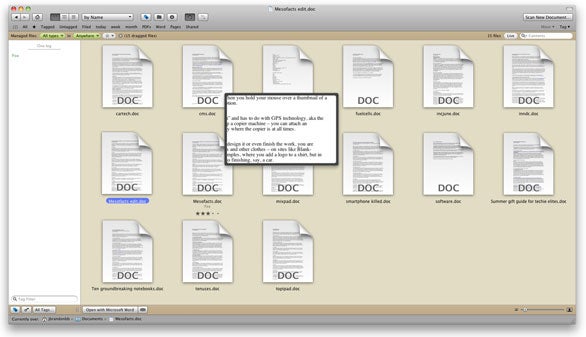 In fact, some of the document management features are quite useful. You can add a star rating to your own docs and then view only the ones you really like or need, based on the rating. Yep shows you all the details for each selected document, such as the creation date and any description you add using your word processor. You can also drag-and-drop text files. Then, you can quickly filter the view by location, rating and doc type. Yep even includes handy default tags, doc printing, and a scanning module.
Yep doesn't support oddball file formats, such as OpenOffice, and Yep does not work with other file types, such as music files or movies, in case you want to organize even further.
Want to stay up-to-date with the latest Gems? Sign up for the Mac Gems newsletter for a weekly e-mail summary of Gems reviews sent directly to your inbox. You can also follow MacGems on Twitter.
Our 186-page Mac Gems Superguide is a veritable greatest hits of Mac Gems. It's available as a PDF download, PDF on CD-ROM, or as a printed book. Learn more about the Mac Gems Superguide.
[John Brandon is a 20-year veteran Mac user who used to run an all-Mac graphics department.]